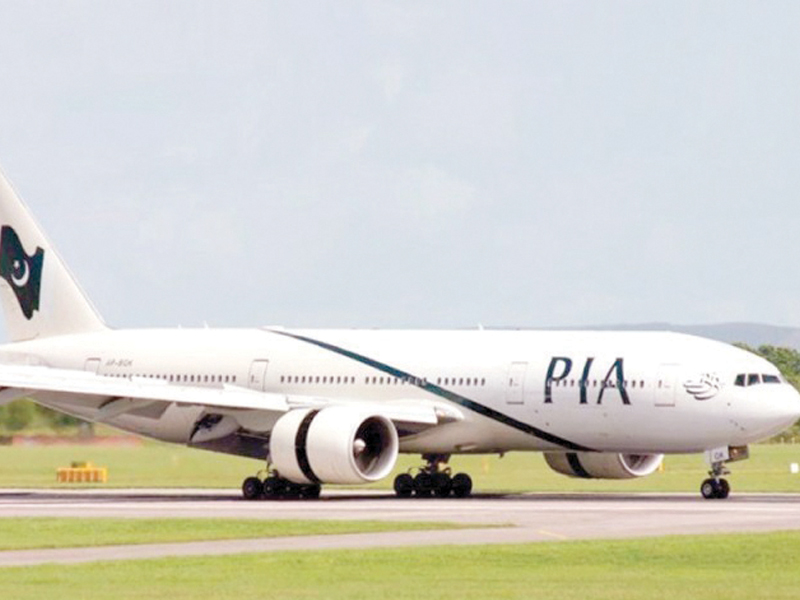 ---
ISLAMABAD:
The government on Thursday defended its decision to go public with an inquiry into "dubious" flying licences issued by the Civil Aviation Authority (CAA) -- a move that has not only prompted Europe and the UK to suspend PIA operations in their territories over safety fears but also put the jobs of Pakistani pilots working across the world at risk.
However, the revelation made by Aviation Minister Ghulam Sarwar Khan about 262 airline pilots having suspicious credentials is continuing to take its toll with Malaysia also grounding all Pakistani pilots working for its airlines following in the footsteps of Vietnam.
Maritime Affairs Minister Ali Haider Zaidi maintained that by the time the inquiry into dubious licences would be over within a few months, the PIA would be among the top airlines in the region and the CAA a top authority in terms of safety.
"Our first priority is safety," he added, addressing a news conference in Islamabad along with Information Minister Shibli Faraz and Special Assistant to the PM on Accountability Shahzad Akbar.
Zaidi said the CAA was taking steps to strengthen its IT system and the officials found involved in wrongdoing had been suspended.
He added that it was necessary to make the information public as people should be taken into confidence when it came to addressing issues concerning safety and improving institutions.
Giving details about the inquiry, the minister said the PTI-led federal government had found "irregularities" in the CAA when it came to power.
He added that charges were verified and immediate action was taken against 54 people. Later, a comprehensive forensic inquiry was launched.
Zaidi said the inquiry revealed that a new licensing system was introduced in 2010. Of all the licences issued till 2018, there were irregularities in 236 of them. The pilots were then grounded and suspended.
Information Minister Shibli said citizens did not need to worry about air travel as the pilots flying planes now had undergone the scrutiny process.
"The PTI government under the leadership of Prime Minister Imran Khan is committed to ensuring merit and transparency in all national institutions," he added.
PM's aide Akbar said internal accountability of institutions was under way as it essential for the facilitation and safety of people.
"The scrutiny process of the suspected pilots and the verification of their credentials and those of other aviation staff would be completed in a few days."
Separately, the Civil Aviation Authority of Malaysia (CAAM) has barred holders of Pakistani pilot licences from working in the country with immediate effect.
In a statement, CAAM chief executive Capt Chester Voo said the suspension came after the Pakistani aviation minister admission that about one in three active Pakistani pilots held fraudulent licences.
He added that CAAM was currently making all efforts to verify with Pakistan Civil Aviation Authority on the authenticity of Pakistani licence holders
The licence holders who are verified as genuine by the Pakistan Civil Aviation Authority would be reinstated immediately in a joint process between the two authorities.
On June 29, the Civil Aviation Authority of Vietnam (CAAV) also ordered grounding all Pakistani pilots working for local airlines.
"The suspension will be in effect until further notice from CAAV," it said, adding that the authority was coordinating with Pakistani authorities to review the pilots' profiles.
The European Union Air Safety Agency (EASA) has also suspended PIA's authorisation to operate in EU member states for six months expressing concerns over the minister's statement.
Following the EASA's move, the UK Civil Aviation Authority also said it was withdrawing PIA's permit to operate from three of its airports. "PIA flights from Birmingham, London Heathrow and Manchester airports are suspended with immediate effect," a spokesperson for the authority told Reuters. The three were major flying destinations for the airline.
However, the PIA later announced that Europe and UK and granted it landing permission from July 1 to July 3. The national carrier has also been allowed overflying over European airspace. According to APP, the airline said it would be able to operate flights four days a week to bring back Pakistanis stranded in Europe and UK. It added that the EASA ban would only restrict it from flying to three destinations -- Oslo, Milan and Paris. The PIA will file an appeal against the decision next week. A PIA spokesperson said the airlines's flights to and from Islamabad to London, PK785 and PK 786, would operate as per schedule.
The UAE is also seeking to verify the credentials of the Pakistani pilots and engineers employed in its airlines.
UAE General Civil Aviation Authority Director General Saif Mohammed Al Suwaidi requested the verification of the credentials of Pakistani pilots, aircraft maintenance engineers, and flight operations officers working in the Middle Eastern country in a June 29 letter to Pakistan Civil Aviation Authority Director General Hassan Nasir Jamy.
"We would like to request your good offices to verify the licensing credentials of the attached list of pilots who are currently holding UAE's pilots licences based on licences and qualifications issued by the Pakistan Civil Aviation Authority," the letter read.
In another development, Emirates has resumed passenger flights from Pakistan after a temporary suspension of eight days.
However, all passengers travelling from Pakistan must carry a negative Covid-19 test report from a laboratory approved by Emirates. The report should not be more than 96-hour-old. The airline had temporarily suspended flights from Pakistan on June 24 following cases the announcement of some Covid-19 positive cases among passengers flying on Emirates to Hong Kong.
"Emirates has started operating regular flights between Dubai and three major cities of Pakistan including Lahore, Karachi and Islamabad," the airline confirmed in a statement.
"Following the receipt of relevant government approvals, Emirates has resumed passenger services to Pakistan. Customers can travel to and from Karachi, Lahore and Islamabad if they meet the requirements of their destination," it read.
"The health and safety of our crew, customers and communities remains our top priority. Emirates has put in place a comprehensive set of measures at every step of the customer journey on the ground and in the air, to minimise the risk of infection spread."