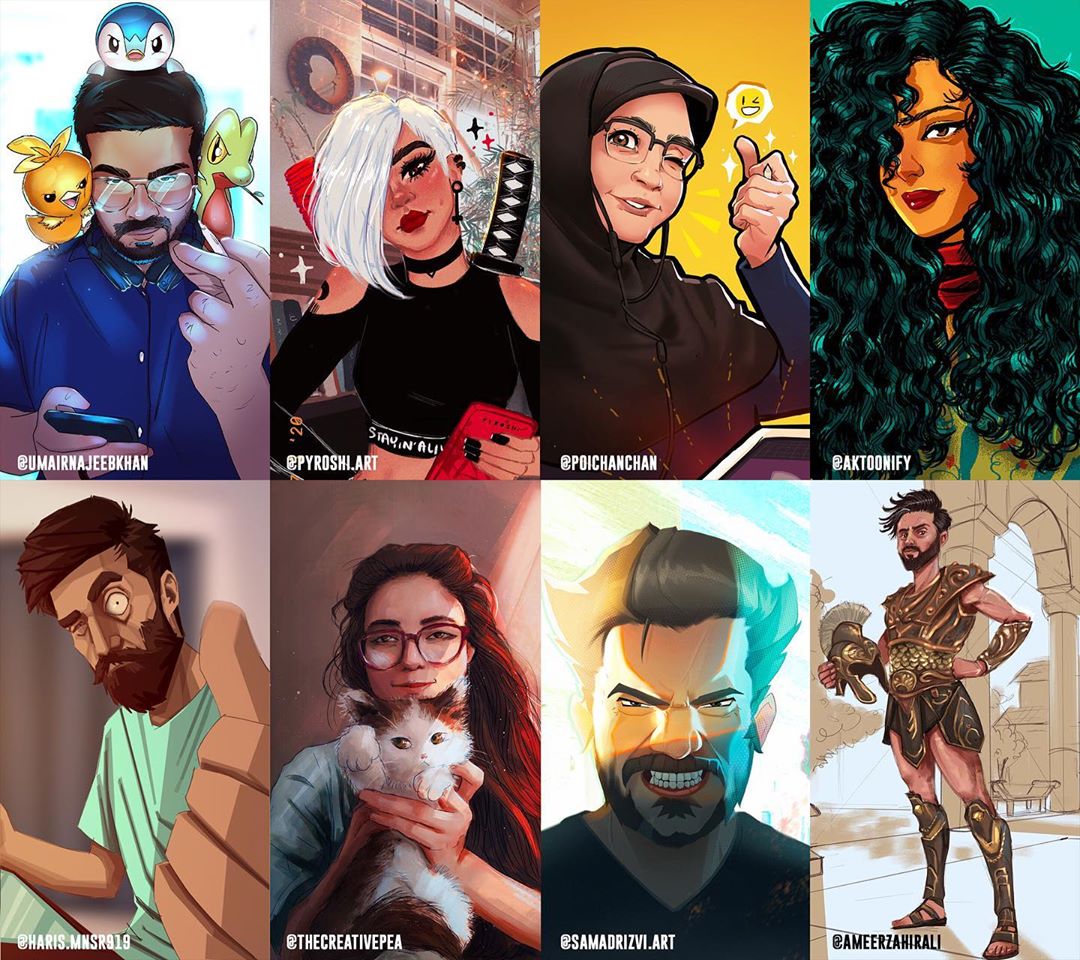 ---
Almost two months ago, Toluwalase Asolo, a 20-year-old business management student at the University of Hull, tweeted a clip with the caption, "The boredom jumped out."

To the song of Don't Rush by UK rap duo Young T and Bugsey, she and her seven girlfriends changed looks seamlessly while passing around a makeup brush used as a metaphorical baton.

This one minute and 26-second video would go on to garner 2 million views and become the popular #DontRushChallenge.

We have seen many try the famous challenge before the trend died down. But this recent one by the Pakistani visual artists is taking the internet by storm.

Shared by Umair Najeeb Khan, the brains behind Paak Legion (Pakistan's first superheroes comics) on his Twitter, the minute-long video has garnered more than 77k views by the social media users.

https://twitter.com/UmairNajeebKhan/status/1259867140104114183

In the video, we see eight illustrators take the Don't Rush Challenge and the results were mindblowing! Every artist could be seen in an animated version of him/herself and we are in complete awe. Taking part in the challenge were Khan, Abeer Kasiri, Maha Abdul Alaam, Haris Mansoor, Maheen Z, Samad Rizvi, Saleha Kamran Afzaal and Ameer Zahir Ali.

Twitter lauded the efforts of the illustrators.


This has got to be, and by far, the most creative #dontrushchallenge ever 🤩 https://t.co/5VMa2vF9Ho

— Salman Chachar (@ChacharMan) May 12, 2020


https://twitter.com/newtothefandom/status/1260122138788405250


This is aces! https://t.co/6dow0h9mKs

— Fuzzy (@fuzzyrants) May 12, 2020
The best one i saw with the #tag of #dontrushchallenge 🔥💯 https://t.co/QS7fSqC6dd

— Shahjee Writes | Blogs and Poetry (@ShahjeeWrites) May 11, 2020
The best of best #DontRushChallenge
Unique and Beautiful.
Just loved it. ❤️

Wow wow wow.
Superb. https://t.co/WjdYC9vyAN

— Saba (@TheekHoGya) May 11, 2020
Love it!!!! So much talent!!! https://t.co/CvwQ6VAiyM

— Shehzil Malik (@shehzilm) May 11, 2020


https://twitter.com/Nik_OnSale/status/1260105093145223170

https://twitter.com/s_adil72/status/1259918359979790344

Have something to add to the story? Share it in the comments below. 
COMMENTS
Comments are moderated and generally will be posted if they are on-topic and not abusive.
For more information, please see our Comments FAQ