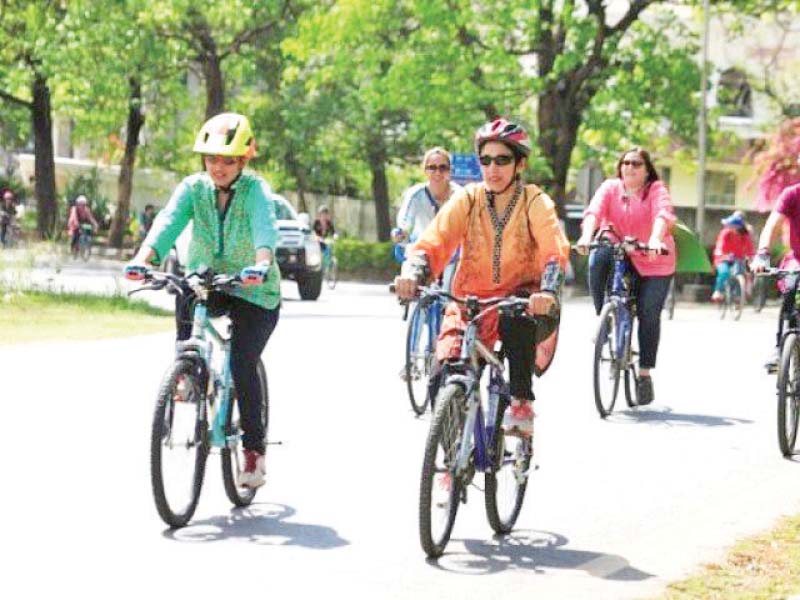 ---
KARACHI: As the sun sets on Karachi's largely deserted roads, with lockdown measures being stepped up after 5pm, the air resounds with the rattling and clinking of bicycle chains.

Quite a few of the city's residents have taken to the roads on their bicycles - a trend that has become their new normal during the ongoing lockdown.

Among them is Zara Noor Abbas, an actor, who usually cycles around her neighbourhood in Defence Housing Authority, Phase- VII.

Calling for engaging in healthy activities during the lockdown, she said cycling was one thing that people could do in this period.

Karachi commissioner issues SOPs for cyclists

"It would be great if the city administration allocates separate lanes for cyclists and ensures that roads are properly paved so that no one gets injured," she added. Optimistic about the trend picking up pace among the masses, she pointed out that some delinquent drivers would roughly drive too close to cyclists, which could be dangerous.

Some citizens have raised concerns over cycling being seen as a hobby of the elite in the city's posh areas.

Syed Talha Imam, the founder of North Nazimabad Cycling Group, lamented that the standard operating procedures (SOPs) for cyclists, recently issued by Karachi Commissioner Iftikhar Shallwani, only catered to those residing in the posh neighbourhoods of Karachi's South district.

The SOPs instructed cyclists to ensure that they don helmets that fit well, wear reflective material as part of their clothing and attach reflective strips in the front and back of their cycles, besides following other guidelines.

"The government is more focused on addressing the issues of the privileged," Imam claimed, adding that several residents of Central and East districts were cycling enthusiasts too and any initiatives launched in this regard should keep them in mind as well.

The widespread inclination towards cycling as a hobby among Karachiites is evident as people from all localities and backgrounds shared their enthusiasm for the activity.

Zulekah Dawood of Lyari regularly goes cycling with around 30 other girls and is willing to follow any guidelines issued by the government.

"We always wear helmets and follow traffic rules, but [even] if the government makes the use of any further piece of gear mandatory, we would [surely] wear it," she assured.

Cycling faces economic 'meltdown' if Tour de France cancelled

A healthy hobby

The trend has received widespread appreciation among many government and public circles, primarily for the health benefits it offers.

According to Dr Aneela Attaur Rahman, an epidemiology expert and the vice-chancellor of Shaheed Mohtarma Benazir Bhutto Medical University, Larkana, engaging in physical activities such as running and cycling boosts immunity.

Commissioner Shallwani, too, termed the trend "a welcome change in the city," saying that it needed to be encouraged and it would be unfortunate if the government failed to support it.

Giving assurances that separate lanes would soon be allocated for cyclists, he said this initiative would begin in the South district and then move towards the East and Central districts, as they, too, had wide thoroughfares. He further committed to devising traffic laws for cyclists and expressed hope that legislation on this would begin soon.

Besides, the government also plans to engage private companies for installing bicycle stands across the city, including on varsity premises, so that it is easier for citizens to travel shorter distances, according to Shallwani.

However, it seems that the commissioner and the district police are not on the same page.

Cyclists enjoy empty roads in Islamabad

Talking to The Express Tribune, South SSP Shiraz Nazeer said citizens would be allowed to cycle on the roads only before 5pm, much to the chagrin of many cyclists.

"It would be unjust if we allow people from posh localities to cycle after 5pm but bar others from doing so," he explained, adding that though it was a healthy activity, that did not give people the excuse to violate social distancing measures. "We will facilitate cyclists, but within the limits of the law."

Published in The Express Tribune, May 12th, 2020.