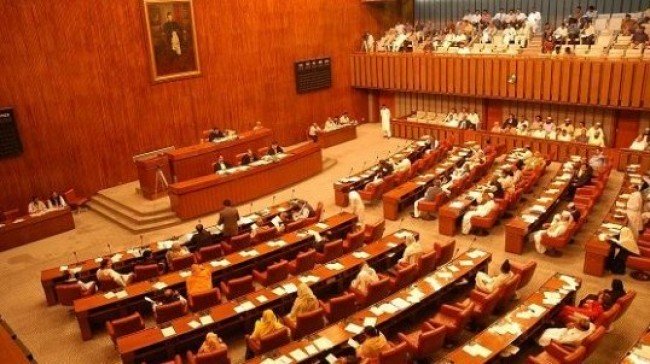 ---
ISLAMABAD: The joint opposition on Wednesday submitted a requisition for convening a session of the Senate after convincing the government to call a session of the National Assembly next week.

The requisition was signed by 34 members of the upper house of parliament.

The opposition has even chalked out the agenda for the Senate session. It has sought a debate on the coronavirus pandemic in the country and a discussion on its effects on the national security and foreign policy. The impact of the disease on the economy is also on the agenda.

A day earlier, following much deliberation between the government and the opposition, it was finally decided to convene a session of the National Assembly on May 11 – nearly two months after both the houses of parliament went into recess to ensure social distancing amid the coronavirus pandemic.

The government and the opposition agreed on the modalities for convening a session during a virtual meeting of a NA committee chaired by National Food Security Minister Syed Fakhar Imam on Tuesday.

DG ISI calls on PM Imran in Islamabad

Foreign Minister Shah Mahmood Qureshi, PML-N's Khawaja Asif, PPP's Naveed Qamar as other members of the ruling PTI and opposition parties participated in the meeting.

Speaking to reporters after the meeting, Qureshi said the session would start from next week and held on alternate days.

Dr Babar Awan, the PM's aide on parliamentary affairs, said in a video message that the focus of the debate and speeches in the assembly would only be the coronavirus outbreak.

With the exception of the press gallery, all other galleries will remain closed as part of the precautionary measures against Covid-19.

There will be no Question Hour, call-attention notices of adjournment and privilege motions during the proceedings and quorum would not be pointed out either.

After the government formally announced that the session would be convened, the opposition withdrew its requisition submitted to the NA secretariat for this purpose.

Sindh to resume intra-city transport services after drafting SOPs

On April 29, the parliamentary leaders of political parties while participating in a virtual meeting of the NA committee had ruled out holding a virtual session of the assembly.

The government had earlier tried to persuade the opposition parties to agree to a virtual session of the assembly, but the latter turned down the proposal.

They argued that as there was no provision in the rules of the assembly for a virtual session so a physical one should be convened to take up pertinent issues concerning public at large besides important legislation.

Turkey sends aid to Pakistan amid coronavirus crisis

The opposition parties also said that a virtual session would erode the dignity and sanctity of the parliament and the essence of participatory democracy.