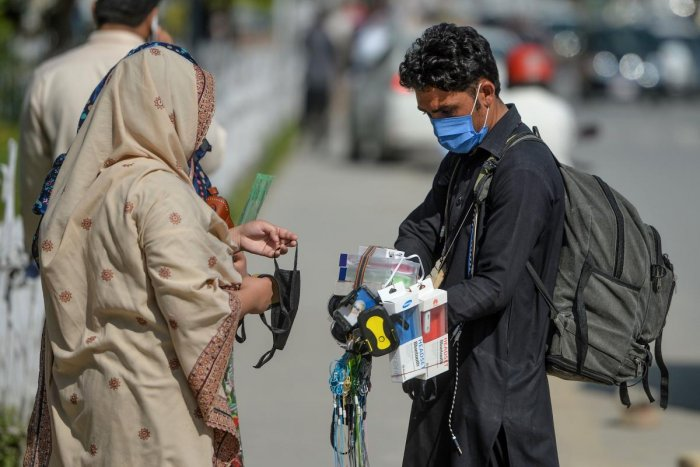 ---
RAWALPINDI: It seems that some people try to make the most of things even in the worst of times and come up with innovative and novel ideas in such a situation.

In the wake of the coronavirus pandemic, facemasks have become an integral part of clothing since the outbreak, the garment manufacturers in the garrison city have come up with a unique solution for fashion savvy people, said a shopkeeper in Saddar Bazaar.

For many people, fashion serves as a platform for self-expression, and the manufacturers in Rawalpindi have found a solution for them by introducing facemasks with matching clothes that a customer wishes to buy for Eidul Fitr or in general, he said.

Almost all retailers have begun selling facemasks matching the design and colour of the dresses that they are offering to the customers, he said showing shirts with matching masks. The fashion followers, both men, and women are thus delighted over the innovative step. This fashion utility is not just confined to men and women but the option is available with the children's clothing as well.

Garment manufactures are of the view that the idea popped up in their minds as the coronavirus situation is expected to prevail another month or at least until Eid, said a garment store owner. Therefore, to save people from feeling odd by covering their faces with a mask completely unidentical with their new dresses on the festive religious occasion, they pivoted towards this style.

During a survey conducted by The Express Tribune, these masks are available with readymade dresses for women, men as well as children.  The trend is gaining popularity, particularly among women while men are also happy to have face-covering choices matching their traditional shalwar kameez on Eid. A customer gets these masks as complementary with the apparel, retailers said.

Further, since the coronavirus situation has extended over a month, the mask makers have also started preparing them in vibrant colours and checkered patterns. Earlier, when the coronavirus started to spread in the country and facemasks were termed mandatory to wear, they were available in just basic colours such as black or its darker shades or many bought the surgical ones.

However, the trend has taken a flip now and masks are available in different colours and patterns on roadsides. The customers have a variety of colors and designs to choose from, unlike the early days.

Published in The Express Tribune, May 4th, 2020.
COMMENTS
Comments are moderated and generally will be posted if they are on-topic and not abusive.
For more information, please see our Comments FAQ