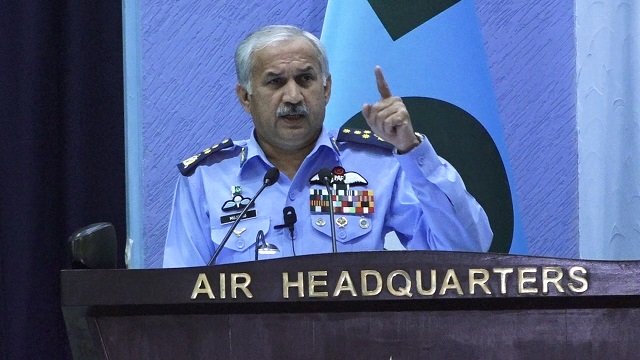 ---
Chief of the Air Staff Air Chief Marshall (ACM) Mujahid Anwar Khan on Thursday said that Pakistan Air Force (PAF) would not make any compromise on the sovereignty and territorial integrity of the country.

"Pakistan Air Force along with other services is fully prepared to counter any threat to the country," said ACM Khan during a ceremony held at Air Headquarters in Islamabad to celebrate the maiden anniversary of 'Operation Swift Retort'.

The air chief stressed that PAF is second to none and has proved its air superiority on February 27 last year.

"We stood as an integrated force that is hard-hitting and focused on its mission," said the air chief, "Prior to the Indian aggression, our leadership had made it amply clear that no misadventure will ever go un-responded."

Operation Swift Retort – Message to India: 'Don't miscalculate'

He reiterated PAF's commitment of responding to aggressors adding that, "Pakistan Air Force is one of the most respected and responsible air force of a peace-loving country."

On the morning of February 27, the Pakistan Air Force launched Operation Swift Retort. A two-element PAF strike force approached the disputed border of Line of Control (LoC). The first element, made up of ground strike aircraft, lobbed precision munitions near Indian strategic targets.

As the Indian Air Force (IAF) reacted to the strikes, they were baited into a well-planned ambush which claimed two IAF fighter aircraft. The rest disengaged and fled deeper into Indian territory. In less than 24 hours, the PAF had planned and executed a major retaliatory strike following the IAF's botched Balakot attack.

The rare aerial engagement that significantly raised the stakes in the perilous standoff came a day after New Delhi claimed its aircraft had launched an airstrike on what it called the "biggest training camp of Jaish-e-Muhammad" militant group inside Pakistan, a claim debunked by Islamabad.
COMMENTS
Comments are moderated and generally will be posted if they are on-topic and not abusive.
For more information, please see our Comments FAQ