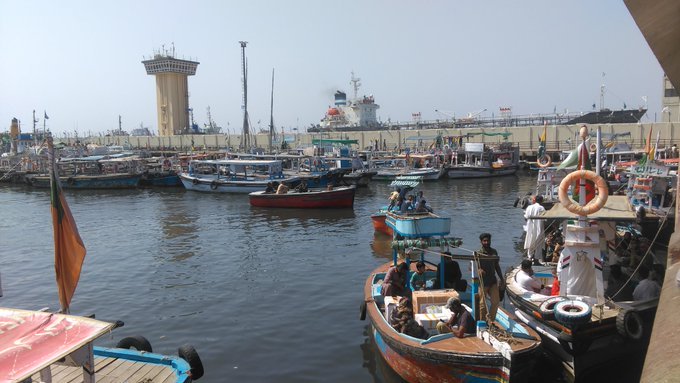 ---
KARACHI: Normally bustling streets of Keamari were unusually quiet on Tuesday. Schools in the area remained closed and markets, otherwise thronged by visitors and buzzing with activity, presented a dull picture. It was as if death had taken over the neighbourhood, as many families, gripped by fear following the gas leak that claimed multiple lives and affected several others, were forced to vacate their homes to avoid being exposed to the air filled with toxic fumes.

With scores of families abandoning their homes, the narrow streets of one of the oldest residential colonies in the area, Pakistan Railway's GR Colony, too were under a spell of stillness. However, amid this mass evacuation, there were still some who insisted on staying back, unable to come to terms with the idea of leaving their homes, even if temporarily. Among them was Ayaz Khan, a resident of the area for the past 15 years, who had shifted the rest of his family to Sher Shah.

Speaking to The Express Tribune, Khan said that majority of the residents, disturbed by the mysterious gas leak, had moved out, adding that those left behind found themselves in the grip of intense "fear after sunset." As darkness befalls, their memories of the tragic night are enlivened.

"Three women died in our area and over a dozen people fainted," he said, recalling the haunting incident. "There is nothing but fear and we cannot risk the lives of our children," added Khan, aggrieved by the separation from his family.

Another resident of the colony, Qurban Ali, however, clarified that those who left their homes were not asked or forced by any government authority. It was of their own accord to safeguard themselves against the impending health hazard.

According to area locals, of the 400 houses in the GR Colony, almost 300 have been vacated.

Besides the GR Colony, localities in the vicinity of Tara Chand Road, Padar Ground, Butta Village and several other areas in Keamari have been affected by the gas leak.

Echoing Khan's and Ali's sentiments, Sharjeel Kutchi, who lives nearby Tara Chand Road, said that the gas leak had created panic. "We are living in fear but the [relevant] authorities are yet to ascertain the cause of the leak and take proper measures to ensure that such an incident doesn't take place again," he added.

Similarly, Saleem Khan, another resident who is still taken aback by the gas leak and the ensuing events, said that he felt pain in his eyes and throat. "It gets foggy, especially after sunset, but we are unable to escape the panic and the tragedy," he added.

"There is suffocation in the air," said a shopkeeper, Rasheed Khan, adding that he too experienced difficulty in breathing following the leak. He had witnessed three others fainting and said that those staying behind avoided coming out of their homes.

As he shared his experience, Rasheed sat in a gloomy mood at his shop, awaiting customers. "Not a single one has come to my shop today," he said.

Meanwhile, Khan said that while some officials visited the area and collected air and dust samples, "they didn't bother to ask about our families."

The deadly gas leak that occurred late Sunday night has so far claimed 14 lives and affected over 350 persons, over a period of just three days.

Jackson Police have registered a case on the matter against unidentified persons on behalf of the state on Monday. The case was filed under Sections 322, 284 and 337-A of the Pakistan Penal Code, pertaining to unintentional murder and negligent conduct with respect to poisonous substances.

"We did not name anyone in the FIR as it is yet to be clarified from where the gas spread and why," stated Jackson SHO Malik Adil. He said that the postmortems of the deceased had not been conducted, but samples had been taken for chemical examination to ascertain the cause of death. 

Published in The Express Tribune, February 19th, 2020.
COMMENTS
Comments are moderated and generally will be posted if they are on-topic and not abusive.
For more information, please see our Comments FAQ