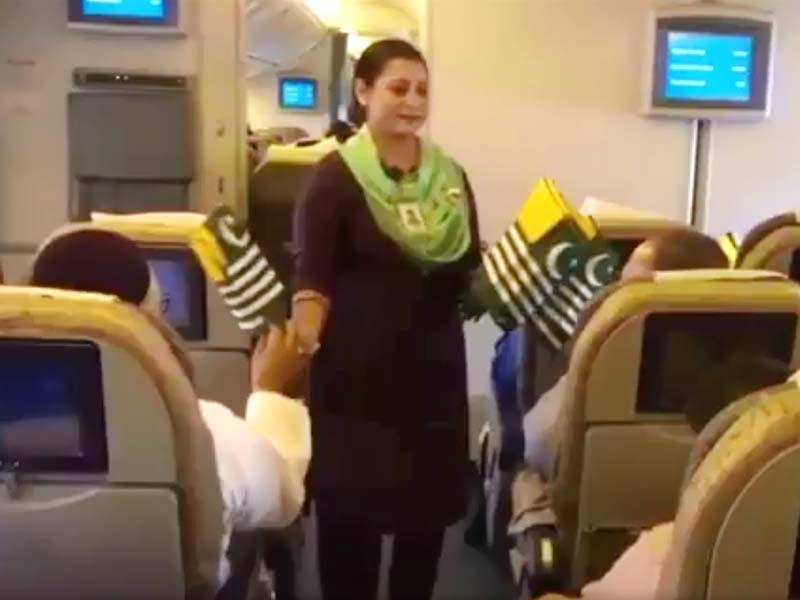 ---
The Kashmir Solidarity Day was marked not only in Pakistan but around the world and the national flag carrier also displayed its unwavering support for the freedom struggle of oppressed Kashmiris thousands of feet above the ground on Wednesday.

Pakistan International Airlines (PIA) released a video message on Twitter the people of Indian Occupied Kashmir (IOK) who have been held hostage by New Delhi.


In solidarity with Kashmir, PIA commemorated Kashmir Day inflight with passengers. #PIA #KashmirDay pic.twitter.com/odXRuMU5yO

— PIA (@Official_PIA) February 5, 2020


"As we mark Kashmir Solidarity Day, PIA stands with our oppressed Kashmiri brothers," a member of the cabin crew can be seen saying after the safety announcement on one of their flights.

I'd start living in the plane if given a chance: PIA's first Kashmiri female pilot

Passengers were also handed out Kashmiri flags by cabin crew members in a symbolic gesture.

The entire nation came together to show their support for the people of Kashmir.


PIA observed Kashmir Solidarity Day with great zeal to honour Kashmiri brothers and sisters. The gathering was attended by a huge number of PIA employees and higher management, with lots of slogans and prayers done for peace to prevail in Kashmir. #PIA #KashmirSolidarityDay pic.twitter.com/ioUiZZqoQX

— PIA (@Official_PIA) February 5, 2020


Earlier in the day,Prime Minister Imran Khan had doubled down on Islamabad's continued political, moral and diplomatic support for Kashmiris.

The premier said that New Delhi's action on August 5 would pave the way for the independence of occupied Himalayan valley.

While addressing the Azad Jammu and Kashmir (AJK) Legislative Assembly in Muzaffarabad, PM Imran said that if the Indian prime minister had not annexed the region he would not have been exposed.

The premier added that the world was silent when it came to the Kashmir issue, however, Modi's mistake of annexing the disputing Himalayan region has cast the spotlight on Indian atrocities
COMMENTS
Comments are moderated and generally will be posted if they are on-topic and not abusive.
For more information, please see our Comments FAQ