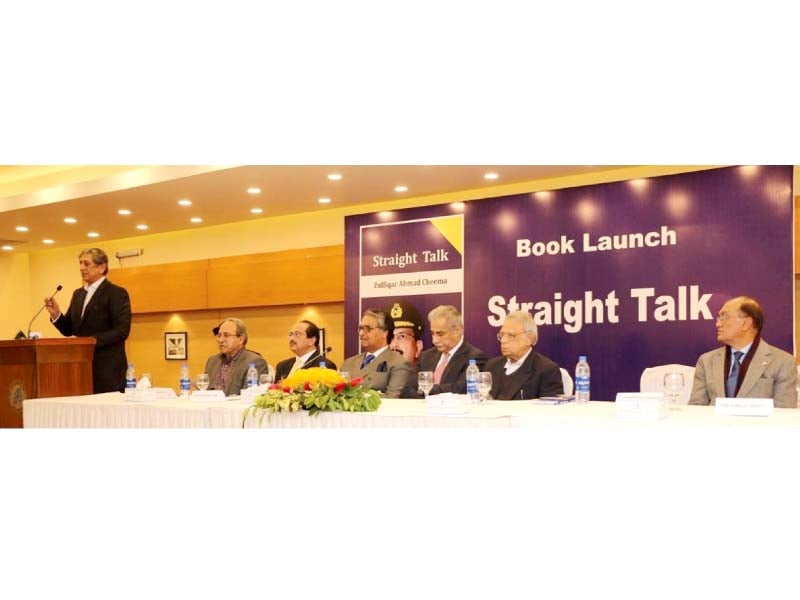 ---
For the solidarity and prosperity of the country, all institutions should work within their constitutional limits while there is a dire need for a grand dialogue between the political, judicial and military leaderships.

This was stated by speakers at the launching ceremony for the book 'Straight Talk' by the former inspector general of police Zulfiqar Cheema.

Former Senate chairman Waseem Sajjad said that Cheema never compromised his honour and dignity, yet he achieved the highest rank. "This should be a lesson for young civil servants," Sajjad said, adding that the book carries many valuable guidelines for the youth, the politicians and institutions.

Former National Assembly speaker Ayaz Sadiq said that people like the author should come forward to evolve a consensus amongst different segments of society. He said the author is respected because he always resisted unlawful orders of the rulers.

Islamabad High Court's former chief justice Sardar Muhammad Aslam said that the author's family, particularly his two brothers, are also men of impeccable integrity.

Ex-foreign secretary Jalil Abbas Jilani said the author has beautifully identified problems of governance, accountability, democracy and the tenuous civil-military relationship.

Former Defence Secretary Lt Gen (retired) Naeem Khalid Lodhi said that the ex-IGP's book is a beacon of light in the darkness.

Abdul Basit, the former ambassador of Pakistan, said that the article about the author's mother is a classic and his writing about the new charter of Pakistan is the need of the hour.

Fellow former top cop and a former chairman of PEMRA Kamaluddin Tipu said that Cheema has always been a bold officer who has taken on new initiatives and brought tremendous improvements in different institutions.

Published in The Express Tribune, December 19th, 2019.