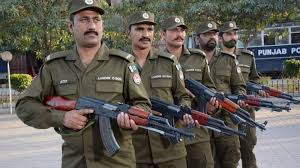 ---
LAHORE: After failing to produce the desired results through various 'projects' to reform police station culture, the Punjab Police is all set to introduce another initiative.

The initiative has been titled, "Special Initiative Police Stations". Under the project, special police stations will be constructed to separate public dealings from police work.

Special areas ie the community rooms will be constructed where the complainants will be seated for redressal and lodging of their complaints about operations and investigations.

These police stations will be equipped with modern technology and facilities. Facilities include bio-metric attendance system, CCTV cameras, 3G cameras installed also inside vehicles, computerised internal PS working mechanism, air-conditioners, android mobile-phones for staff and other facilities.

These special police stations will be well-furnished and monitored through CCTV cameras. A computerised electronic token system will be made operational for registration of FIR and complaints.

Every police station will house a waiting area specified for the complainants. They will take a token just like people do at private banks or firms and wait for their turn for the service.

The complainant on his turn will submit a written application and an e-tag will be issued against each complaint. It will be forwarded to the inquiry officer.

A checklist will also be introduced to counter fake FIRs. After going through the process, an FIR will be registered and the complainant will be issued a copy of the same.

The record of every item taken into custody by police will be maintained in every police station. The Key Performance Indicators (KPIs) will be introduced to evaluate the performance of the officials. The police stations will be monitored through CCTV cameras to discourage mistreatment, illegal detention, torture and other excesses by the authorities. Women police officers will be deployed for women complainants. Besides, victim support officers will also be deputed.

At least five police stations of Lahore are being constructed under this new initiative. The process to acquire equipment for the purpose has already been kick-started.

Outside Lahore, other districts included Pakpattan, DG Khan, Mianwali, Jhelum, Chakwal, Multan, Faisalabad and Sialkot. In these districts, initially, one or two police stations will be established on this model.

Not the first initiative

This is not the first initiative in pursuit of police reforms. Punjab Police command for over a decade has been applying a "hit and choose" policy to develop a model police station. There have been so many experiences in the recent past. Billions have been spent, however, the dreams were yet to materialise.

Initially, Model Police Stations were built over a decade ago with the spending of millions. Under the initiative, the construction of improved infrastructure (buildings) was focused.

The project was continued by few commanders until the realisation that it was not bearing fruits.

The policy was reconsidered. Instead, a duty officers system was introduced. A group of young police officers were trained primarily in dealing public with courtesy and deputed in every police station after constructing a duty room. The project was initiated in Lahore and replicated in a few districts. However, it was also replaced by front desks.

The front desks, working under Complaint Management Information System, were introduced. Special rooms were constructed with computerised complaint registration mechanism. Those deployed on the duty were civilians and not from the police department.

The CCTV cameras had been installed on the front desks for monitoring and surveillance purposes. The project was intact throughout Punjab. Despite a few reservations, it was being appreciated for improvement. The department claimed the recent initiative to become a step forward.

Published in The Express Tribune, December 8th, 2019.
COMMENTS
Comments are moderated and generally will be posted if they are on-topic and not abusive.
For more information, please see our Comments FAQ