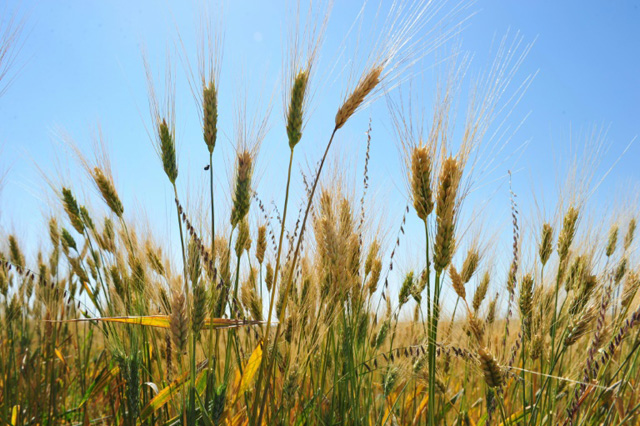 ---
DERA GHAZI KHAN: Locusts are heading back after destroying crops spread over thousands of acres of land in various parts of Southern Punjab. However, drum-beating must continue after sunrise immediately to hasten their departure, suggested Punjab Pest Warning Director General Syed Zafaryab Haider.

He was talking to cultivators during his visit to various areas of Rajanpur and Dera Ghazi Khan. He visited these areas on the directives of Punjab Agriculture Secretary Wasif Khursheed.

The visit was also made to examine activities underway for the surveillance of locusts by the field formations of the department of agriculture.

He said that in order to monitor the attack and losses incurred from the swarms of locusts, around 64 surveillance teams of the Punjab Agriculture Department are working across the province. The director general visited Muhammad Pur, Jam Pur, Kot Chattah and Dera Ghazi Khan and examined the presence of locusts in the areas where crops are cultivated. During the visit, he spoke to cultivators and informed them that these swarms of locusts are moving from different areas to coastal belts of Balochistan.

Crop yields at risk from rising temperature

He added that these swarms only sit on trees, crops and stems to spend the night. He said that during the past few weeks, the winds moving at a fast pace from south to north changed the course of locusts from Rajasthan to Cholistan. He said they are now migrating to the coastal areas of Balochistan.

He also said that so far, cotton, kamad, corn and onion crops have not been harmed at all. The field teams of the agriculture department are guiding cultivators on protective steps against the locusts. They are being told to save up on steel tins, drums and crackers. They were warned that the locusts should not be allowed to sit on newly-cultivated crops such as barseem, losran, sarso, raya and vegetables as they can harm them. "The cultivators must beat their steel tins continuously to save their crops so that the locusts do not get to stay at one place."

Locust is an insect in the desert. It started its journey from African countries and later, travelling from Yemen, Saudi Arabia and Iran, it entered the coastal areas of Balochistan in March. It then started breeding and entered the Nara desert in the Khairpur district of Sindh in April 2019.

Published in The Express Tribune, November 7th, 2019.