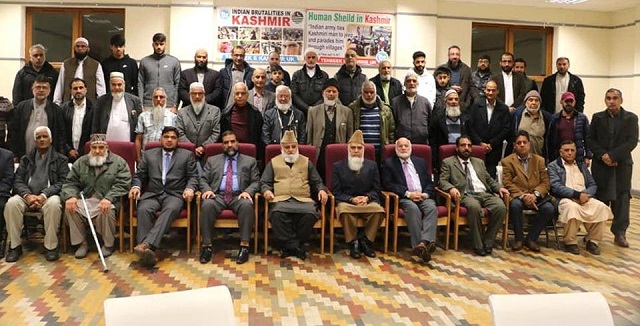 ---
LONDON: Kashmiri leaders continue to raise their voices at all international platforms against New Delhi's atrocities in Indian Occupied Kashmir (IOK) which has been under siege for the past 79 days.

Speaking at Kashmir Conference held in Derby, United Kingdom (UK), they urged the world community to step forward for settling the Kashmir issue once and for all.

"India's act of targeting civilians on the Line of Control (LoC) is not only brutal but inhuman and global powers must condemn it," said one of the speakers at the event, which was organised by Tehreek-e-Kashmir (TeK) UK on Monday.

Urge India to end IOK clampdown: AJK president to international community

While addressing the conference, Chairman Public Accounts Committee (PAC) Abdur Rashid Turabi said that Kashmiris will never compromise on their right to self-determination.

Senior Hurriyat leader Altaf Ahmad Bhat also voiced his concerns over the ruthless clampdown in the disputed valley, saying it is actually a smash on the world's conscience that failed to settle Kashmir dispute that has lasted more than seven decades.

Reiterating support for the Kashmiri cause, TeK Europe President Muhammad Ghalib said, "Kashmiris will never bow before India as New Delhi is not sincere to settle the Kashmir dispute."

More British MPs join chorus in condemning IOK clampdown

Tek UK President Raja Fahim Kayani also affirmed his support to the people of Kashmir, saying that people in UK are with Kashmiri brethren in their "plebiscite struggle".

India is hoodwinking the world on Kashmir situation where life is still under curfew and lock down, he added.

Overseas British Kashmiris leader Maulana Fazal Ahmad Qadri said that British Kashmiris are with the people of Indian Occupied Jammu and Kashmir and Ladakh (IOJK&L), adding, "We believe that people of IOJK&L will get their birth rights granted by the United Nations.
COMMENTS
Comments are moderated and generally will be posted if they are on-topic and not abusive.
For more information, please see our Comments FAQ