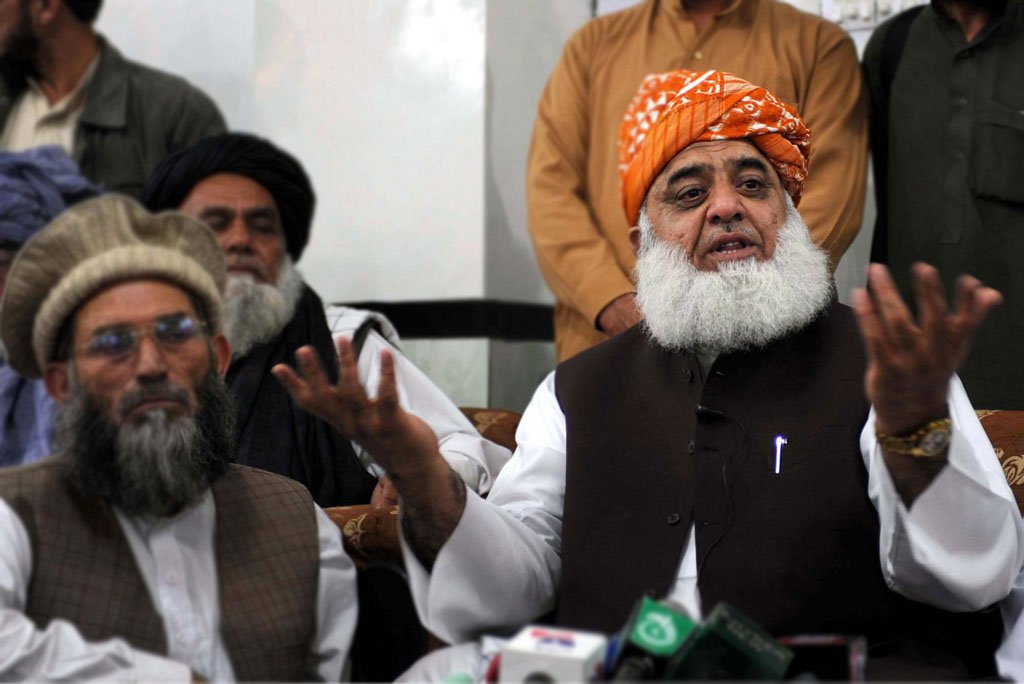 ---
Jamiat Ulema-e-Islam-Fazl (JUI-F) chief Maulana Fazlur Rehman on Saturday said the upcoming Azadi March of the party is a "war" which will "only end with the fall of the government".

Addressing a press conference in Peshawar, the cleric said that "the entire country will be a battlefield," as he ratcheted up pressure on the incumbent Pakistan Tehreek-e-Insaf (PTI) government.

The JUI-F has announced a long march against the government on October 27. The march will culminate in the federal capital and the party also plans to hold a sit-in.

Elaborating further, the JUI-F said the party's strategy will keep evolving to cope with any situation and Insisted that a "flood of people" will participate in the march against the "fake rulers".

Fazl expressed hope that other opposition parties may join his party and said hopefully "all will be on the same page" as it was a unanimouly agreed last year that the general elections were "fake".

"The entire country is going through an economic crisis and unemployment has skyrocketed."

The JUI-F chief also warned the government against making any arrests and said such a move will further incite and anger the protesters.

He further urged the "establishment, bureaucracy and police to not back the illegitimate government" and added that he does not want to clash with state institutions.

On Friday, Foreign Minister Shah Mehmood Qureshi urged the party to reconsider its decision of marching on Islamabad on October 27.

The two main opposition parties – Pakistan Peoples Party (PPP) and the Pakistan Muslim League-Nawaz (PML-N) – tried earlier this week to discourage him from 'going solo' with the anti-government rally, but to no avail.

A PML-N delegation met Fazl on October 2 to convince him against the march. The JUI-F chief, at a joint presser following that meeting, dropped a hint that his party might consider the proposal.

However, after an intra-party consultative session of the JUI-F top cadres the next day decided against delaying the march. Fazl, flanked by his top party aides, confirmed to the media following the session that their march would begin later this month.

The JUI-F chief's announcement stirred up speculation that he had disregarded the proposal of the other opposition parties by 'going solo'.

"We're in contact with all the other parties and making decisions in consultation with them," Fazl had told the media on Thursday.






COMMENTS
Comments are moderated and generally will be posted if they are on-topic and not abusive.
For more information, please see our Comments FAQ