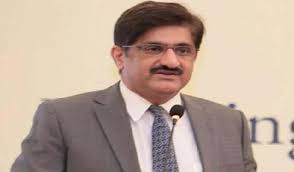 ---
KARACHI: The Sindh Chief Minister Murad Ali Shah's Inspection, Enquiries and Implementation Team has been dormant in the absence of a permanent chairperson. The team, which was constituted to ensure removal of deficiencies and irregularities in developmental projects and administrative affairs of provincial departments as well as monitor progress and impact of federally executed works in Sindh and determine their impact, has seen five chairpersons in the past one year alone.

Dr Usman Chachar was appointed as the chairperson of the CM's team on September 16. There is currently only one position of the team's five members filled while four others remain vacant. Most of the officials working in the CM's team are from other departments who have been given additional charge to manage the affairs of the team.

Sindh CM vows to make Centre pay its share for Greater Karachi Sewerage Plan

Earlier, Shamsuddin Soomro was given the additional-charge of chairing the CM's team for two months. He was preceded by Grade 20 officer, Khan Muhammad Mehar, whose appointment also lasted for two months. Prior to Mehar, Asif Haider Shah was appointed in March 2019 and stayed on the post for a mere 21 days and preceding him was Mukhtar Hussain Soomro who was appointed in January 2019.

Vacant posts

According to an internal report of the team, no appointments have been made against 34 of the 73 positions approved for the CM's team. These positions include secretary, stenographer, assistant, among others. However, around half of the Rs60 million budget allocated for the team is spent on salaries and transit allowances.

Delayed inquiries

The team has been dormant for several years and the chief minister himself has not forwarded any inquiries to the team. According to the report, of the inquiries assigned to the team, over 550 of them are facing delays including 136 inquiries pending since 2009, 90 pending since 2006 and more than a dozen inquiries pending since 2003.

Administrative issues

When incumbent Chairperson Dr Usman Chachar was contacted in this regard, he said the team was facing administrative issues and he has begun taking steps in this regard. He said that the team would be made operational with the approval of the CM so that the CM's directives can be implemented.

Dr Chachar said that he will suggest changes in administrative affairs to improve the teams' affair. These would include altering the process through which inquiries are submitted, he added.

Governance at arm's length: Sindh govt shifts more of its burden on private sector

The five members of the team are authorised to launch inquiries in different departments including irrigation, college education, excise, culture and heritage, population welfare, trade and industries, women development, rural development, home affairs, labour, board of revenue, mines and minerals, minority affairs, law, transport and environment, among others. The departments are divided between members and currently, four out of five members have not been appointed.

The department was established as an Inspection Team in 1981 and was renamed the CM's Inspection Enquiries and Implementation Team in 1985 while it was known as the Governor's Inspection Team between the years 1999 to 2003.

Published in The Express Tribune, September 23rd, 2019.