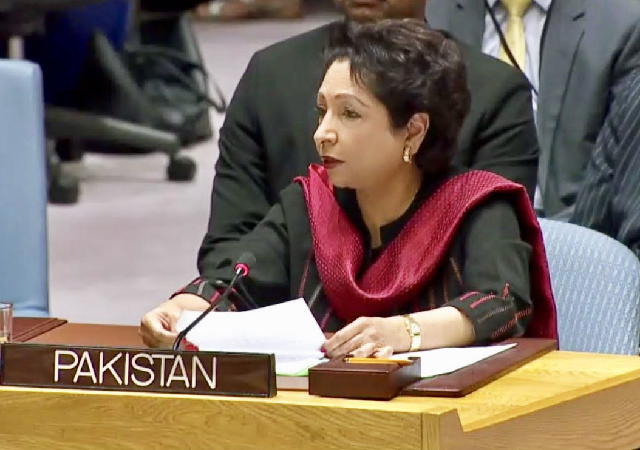 ---
Pakistan's Permanent Representative to United Nations Dr Maleeha Lodhi called for the strengthening of United Nations Military Observer Group in India and Pakistan (UNMOGIP) in light of the current situation in Indian Occupied Kashmir (IOK).

Speaking at the United Nations Security Council's (UNSC) debate on peacekeeping operations, the ambassador said the efficacy of UNMOGIP has become more significant due to multiple ceasefire violations by the Indian armed forces along the Line of Control (LoC).



Speaking in #UNSC debate on @UN #peacekeeping operations I called for strengthening the UN Military Observer Group in India & Pakistan (UNMOGIP) in the wake of India's illegal annexation of occupied Jammu and Kashmir on 5 August, in flagrant violation of multiple SC resolutions. pic.twitter.com/WVAvOPuHN4

— Maleeha Lodhi (@LodhiMaleeha) September 10, 2019

On Tuesday, Lodhi apprised the UN secretary-general regarding the humanitarian crisis in the occupied valley.

UN rights chief urges India to ease Occupied Kashmir lockdown

The ambassador took to social media to state that she met with Secretary-General Antonio Guterres and emphasised the urgency of dealing with the atrocities in IOK.

Ambassador Lodhi also briefed the secretary-general about the political and humanitarian crisis after India's illegal annexation of IOK which is threatening global peace and security.

Previously, Lodhi met UNSC President Joanna Wronecka and briefed her about India's illegal actions in occupied Jammu and Kashmir.

The meeting was held at the United Nations Headquarters in New York where Lodhi apprised Wronecka about India's continued violations of UNSC resolutions.