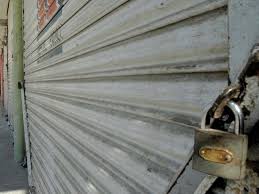 ---
BHAKKAR: In a distinct move, 55 shops, located in main markets across Bhakkar city, were sealed for failing to pay more than Rs20 million to the government.

Apart from sealing these shops, a First Information Report (FIR) will be lodged against shopkeepers who have not paid their rent for a month.

ADC Revenue Adnan Fareed Afridi sealed the shops located at central locations of Hudood Municipal Committee including Jhang-Bhakkar Road, Mohammadi Chowk, Qaisar Zainab Road, GPO Chowk and other main business centres where these shops were found in default.

In this regard, a committee consisting of senior officers of the municipal committee in Bhakkar has been constituted which compiled a list of shopkeepers found guilty of not paying their government dues. These accustomed defaulters are not only being sealed on a daily basis but further legal action is being taken against them.

70% of markets closed as traders observe strike

These shops have been acquired by various businesses through public auction. The shops run different businesses including departmental stores, cloth houses, shoe stores, grocery stores, medical stores, general stores, hotels, mobile shops, computer centres and electronics stores.

The municipal committee owns about a hundred commercial markets in the city's central business centres. Shopkeepers in these markets are obliged to pay their monthly rent to the municipal committee but the monthly rent from various shopkeepers, for the last few years, could not be collected.

These shopkeepers include defaulters ranging from Rs20,000 to Rs150,000. The defaulters collectively owe more than Rs20 million to the municipal committee in rent. The ADC expressed indignation at his sub-municipal committee staff for failing to make timely payments. Reportedly, a master plan has been set up to ensure payment at all costs. Under the plan, a list of defaulter tenants of commercial shops, located in the government places of Category A and Category B, has been prepared.

These tenants included in the list have been given legal notices and a deadline of 15 days to ensure payment of their government dues. The tenants have also been warned that if they do not clear their dues during this period, their shops will be sealed and further legal action would be taken.

Around 55 shops were sealed for the first time in Bhakkar city's history over non-payment of rent despite notices being issued in the first phase.  As regards the sealing of shops, the ADC told The Express Tribune that these shops will not be de-sealed at all without recovery of dues.

Ditch the malls; The bazaars are where the fun is at!

Tenants have illegally taken advantage of the fact that these expensive shops, owned by the government, are available for low rent."

It has been our best effort to ensure that tenants are safe from any hassle but despite all our notices, the tenants did not submit their dues, he added. "Due to these issues, we have decided to take strong action against these shopkeepers and sealed their shops."

"These shops will remain sealed until the payment of dues. While taking further action, FIRs will also be registered against those who do not pay their dues within one month," he said.

The ADC maintained that, so far, the defaulters have deposited more than Rs0.2 million to the municipal committee. "It is our duty to protect these valuable commercial shops that are the government's property. Timely rent and recovery from the defaulters is needed right now."

"I always discourage anti-law practices by taking immediate action against defaulters, according to the law," he further said.

M-9 U-Turn leading to vegetable market to be improved on priority

The ADC said that the staff of the municipal committee in Bhakkar has strictly instructed that merit violation will not be tolerated at all. "The law is equal to all, no one is above the law, and there will be no compromise on revenue collection and compliance with departmental regulations."

He added, "Based on government objectives, all measures are being taken to ensure the payment of dues on merit. Those who make timely payments of their government dues are respectable citizens and honorable to us."

We are strictly dealing with defaulters, he added. "The target of recovering all government dues will be ensured at all costs."

Published in The Express Tribune, August 26th, 2019.