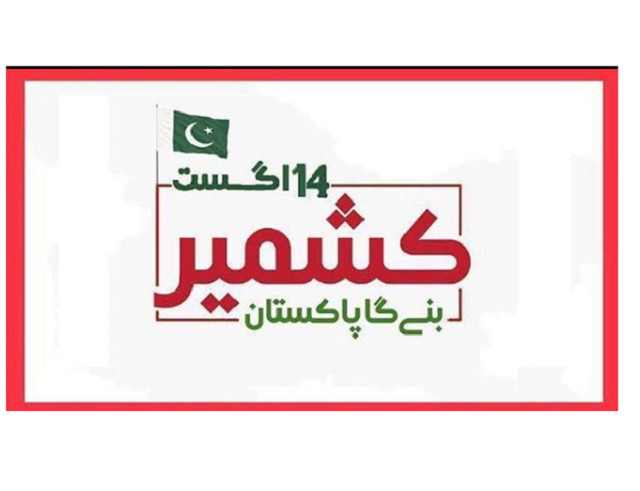 ---
KARACHI: Pakistan marked its 73rd Independence Day on Wednesday as 'Kashmir Solidarity Day' and all celebratory events were dedicated to Kashmiris suffering atrocities at the hands of Indian forces in Indian Occupied Kashmir (IOK).

The solidarity movement was augmented in the digital domain with an effective social media campaign based on two hashtags - #KashmirBanegaPakistan and #15AugustBlackDay.




Both #KashmirBanegaPakistan and #15AugustBlackDay have been used widely on all social media platforms including Instagram, Twitter, and Facebook, which has also introduced a special frame for display pictures featuring red and green writing in Urdu.

To mark our protest against a growing wave of a Nazi ideology in Modi's India, and to stand as ambassador for the rights of the people of Kashmir,PM Imran Khan turns his display picture black. Let us all join in;the world does not need Nazi politics of the RSS.#15AugustBlackDay pic.twitter.com/JzIPNQOExU

— PTI (@PTIofficial) August 15, 2019
14th Aug: Independence Day - a day to celebrate & renew our commitment to Quaid-i-Azam's goal of an inclusive Pakistan where justice & rule of law prevail. We also stand with our Kashmiri brethren in their struggle for self-determination & ag Indian fascism #KashmirBanegaPakistan pic.twitter.com/y9o8jimUO3

— Shireen Mazari (@ShireenMazari1) August 14, 2019
Allah hu Akbar! What a great news to come back to! Massive victory of Pakistan in trying to pursue & exhaust all diplomatic options to save #Kashmir. 1st time in more than 50 yrs the big powers will hold India answerable on Kashmir. Hope UNSC will do its job! #15thAugustBlackDay pic.twitter.com/dxqWz52UtK

— Hamza Ali Abbasi (@iamhamzaabbasi) August 15, 2019
When there is so much injustice we can not remain silent.We stand against the Hitler and Nazi inspired RSS ideology of Modi's govt. Int communities @UN must take stand against #racist,Hindutva extremist India. #15AugustBlackDay

— Murad Saeed (@MuradSaeedPTI) August 14, 2019
we are stand with #Kashmir ❤🇵🇰#KashmirBanegaPakistan🇵🇰#InShaAllah❤ pic.twitter.com/F74vBlD48c

— Chachar VaHeeD (@ChacharVaheed) August 15, 2019
We are with our Kashmiri Brothers and sisters. INSHAALLAH #KashmirBanegaPakistan and we will see #freekashmirfromindia #15AugustBlackDay

— Miss Naeem (@MissNaeem83) August 15, 2019
The call of meeting by UNSC tomorrow on Kashmir Issue is a huge diplomatic success of Pakistan. The sincerity of our leadership with the people of Kashmir is crystal clear. Now we have an honest leadership who will not compromise on country's interest. #KashmirBanegaPakistan pic.twitter.com/iNtbwOmOUT

— JAMAL ISLAM KHATTAK (@ISLAMPtijamal) August 15, 2019
Pakistan Independence Day will be celebrated as Kashmir Solidarity Day to express full support for the people of Kashmir. #KashmirBanegaPakistan@iam_farha pic.twitter.com/df5ZOBxvk0

— Salahuddin (@SalahuddinTano1) August 14, 2019

Many celebrities also used their social media accounts to express solidarity with Kashmir and its people.










This was not the first instance where tensions between Pakistan and India were also played out on social media.

When the nuclear-armed neighbours were on the brink of confrontation in February this year, Indian Prime Minister Narendra Modi and his right-wing Bharatiya Janata Party (BJP) faced mass criticism online from India's opposition parties.

Over in Pakistan, #WeStandWithPakArmy was trending in support of the country's armed forces and their response to India's military aggression.


COMMENTS
Comments are moderated and generally will be posted if they are on-topic and not abusive.
For more information, please see our Comments FAQ