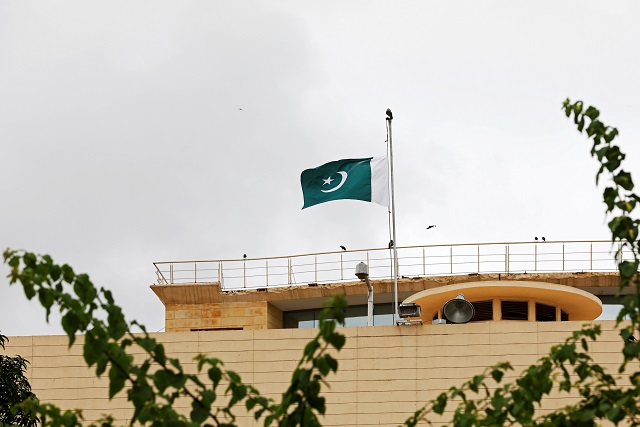 ---
KARACHI/QUETTA/LAHORE/ISLAMABAD/PESHAWER/MIRPUR: The nation on Thursday observed August 15 – India's Independence Day – as a Black Day and staged rallies and demonstrations to protest New Delhi's illegal move to strip Occupied Kashmir (IOK) of its special status in an apparent bid to change demographic makeup of the disputed Himalayan territory.

In the wake of New Delhi's August 5 decision to revoke Article 370 of its constitution that was preceded by a communications blackout, curfews and crackdown in the IOK, Pakistan cut trade and transport links with India and expelled India's envoy.

Islamabad also requested the United Nations Security Council (UNSC) to hold an emergency meeting on the issue while also launching a diplomatic initiative to present Pakistan's stance on the issue to the UNSC members and other countries.

Pakistan last week announced it will celebrate August 14 – its Independence Day – as Kashmir Solidarity Day and August 15 as Black Day to highlight the crisis and on Thursday thousands of people – wearing black armbands and holding banners and posters inscribed with pro-Kashmir and anti-India slogans – participated in hundreds of rallies organised across the country and the Azad Jammu and Kashmir (AJK).

Black day in country today as Kashmir gag continues

Addressing the participants, the PTI leader Asad Umar said Kashmir is a disputed territory and matters pertaining to it could only be resolved under the United Nations Security Council resolutions.

"Violence, curfew, ferocity, brutality and detention could never stop the freedom movements. Guns could not dampen the morale and the freedom struggle of Kashmiris," he said.

A PTI delegation also presented a memorandum to the representatives of United Nations mission and Indian High Commission to convey feelings and concerns of the people of Pakistan about the atrocities being committed by the Indian occupation forces.

The trade bodies of Islamabad and Rawalpindi also held a joint rally to express solidarity with the people of the IOK. Thousands of people from different walks of life participated in the rally, which started from the Convention Centre and culminated in front of the Foreign Office.

The rally participants urged the international community to play its due role to stop India from killings of innocent and unarmed Kashmiris, and giving them their legitimate right to self-determination.

Rallies were also organised in Lahore, Kohat, Chiniot, Narowal, Gujranwala, Rojhan, Bhimber, Sukkur, Vehari, Kashmore, Sahiwal, Shahkot, Kalabagh, Bhatta Sultanpur, Talumba, Chonia, and Shikarpur to express solidarity with the Kashmiri people.

'Pakistan may redeploy troops from Afghan border to Kashmir'

Members of civil society, political parties, religious and international human rights organisation, groups and monitoring cells urged India to desist from sabotaging peace and actual status of Kashmir.

According to the government's decision, flags on all public buildings in Lahore, including the Punjab Governor House, Punjab Assembly, Chief Minister's Secretariat, Town Hall, Lahore High Court, Lahore Museum and other government offices, were flown at half-mast.

Punjab Chief Minister Sardar Usman Buzdar said enthusiasm of the participants to show solidarity with Kashmiris against the atrocities of India is unprecedented. "Today, there is only one slogan on the tongues of every Pakistani and that is "Kashmir will become Pakistan".

Like elsewhere in the country, the Black Day was also observed in Sialkot where political and religious parties, social welfare organisations, NGOs and common people from various walks of life staged rallies at Sambrial, Daska, Pasrur and surrounding areas.

In Faisalabad, a protest rally was held under the aegis of Divisional Administration which was led by Divisional Commissioner Mehmood Javed Bhatti.   The rally started from Zila Council Chowk and marched on various roads

Over two dozens of rallies were taken out in Multan to mark 'Black Day'. The participants were carrying banners and placards inscribed with slogans in support of innocent people of Kashmir. Black flags were also hoisted at different buildings in the city.

Indian Independence Day was also observed as Black Day across Khyber Pakthunkhwa (K-P) amidst protest demonstrations, walks and rallies to condemn abrogation of Article 370.

The protest demonstrations were also held at merged tribal districts where people raised slogans against India. People also burnt Indian Prime Minister Narendra Modi in effigy.

Protests were also held at Chitral, Dir, Swat, Kohistan, Abbottabad, Dir Lower, Manshera, Bannu, DI Khan and Peshawar.                A rally was also held in Parachinar, the headquarters of Kurram district.

Rallies and demonstrations were also held across Balochistan to express solidarity with the people of the IOK. The national flag flew at half-staffed at the Balochistan Assembly, Balochistan High Court, the residences of the chief minister and governor, and other important buildings of Quetta city.

In Quetta people rallied to the Quetta Press Club to voice their support for the Kashmir cause.  At a rally organised by members of the railway employees union, chants of 'Kashmir will become Pakistan' punctuated the air.

The activists, who also torched the Indian national flag, urged the international community, including the United Nations, to intervene in the matter while pointing out that New Delhi was carrying out ethnic cleansing in the occupied territory.

In Gwadar, a large number of people took part in a demonstration with black ribbons tied on their arms to show solidarity with the people of Kashmir. They also carried banners with pro-Kashmir and anti-India messages. Similar demonstrations were also held in Kohlu, Washuk, Kalat, Dera Bugti and Barkhan.

In Sindh, provincial government also organised several programmes including rallies to demonstrate solidarity with the Kashmiri people. Pakistan's largely symbolic 'Black Day' comes amid growing frustration in Islamabad at the lack of international response over the Kashmir dispute.
COMMENTS
Comments are moderated and generally will be posted if they are on-topic and not abusive.
For more information, please see our Comments FAQ