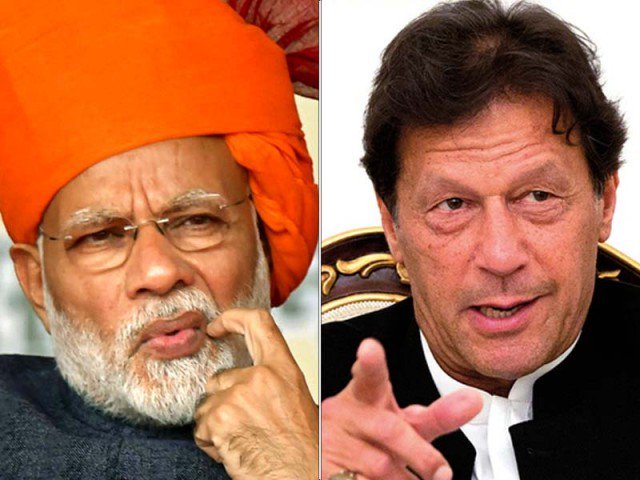 ---
Prime Minister Imran Khan on Sunday said New Delhi was attempting to change the demography of Indian-occupied Kashmir "through ethnic cleansing".

In a series of tweets, the premier said that India's brutal actions in IoK were "unfolding exactly acc to RSS ideology inspired by Nazi ideology".


The curfew, crackdown & impending genocide of Kashmiris in IOK is unfolding exactly acc to RSS ideology inspired by Nazi ideology. Attempt is to change demography of Kashmir through ethnic cleansing. Question is: Will the world watch & appease as they did Hitler at Munich?

— Imran Khan (@ImranKhanPTI) August 11, 2019




PM Imran went on to express the fear that after brutalising IoK the Hindu supremacist Rashtriya Swayamsevak Sangh (RSS) would turn on Muslims in India and then eventually target Pakistan.


I am afraid this RSS ideology of Hindu Supremacy, like the Nazi Aryan Supremacy, will not stop in IOK; instead it will lead to suppression of Muslims in India & eventually lead to targeting of Pakistan. The Hindu Supremacists version of Hitler's Lebensraum.

— Imran Khan (@ImranKhanPTI) August 11, 2019


Terming it the "Hindu Supremacists version of Hitler's Lebensraum", he questioned whether the global community would "watch & appease as they did Hitler at Munich?"

The prime minister's comments are a continuation of the stance he conveyed during his address to a joint session of parliament earlier this week.

In his speech on Tuesday, PM Imran had vowed to take on the "racist" ideology of India's ruling Bharatiya Janata Party (BJP) in the wake of its government stripping occupied Kashmir of its special status and also promised to raise the issue on every international forum including the UN Security Council.

"What they [BJP] did in Kashmir is in accordance with their ideology. They have a racist ideology," the premier said while delivering his policy statement in the joint session of parliament – giving a forceful rebuke of Prime Minister Narenda Modi-led government's decision to revoke Article 370 of the Indian constitution that has paved the way for outside to buy land and settle in the occupied valley.

Imran vows to confront BJP's 'racist' ideology

"I fear that the Indian government will now [after] will resort to ethnic cleansing in Kashmir," he added.

Warning that India's move could provoke conflict in the region, the prime minister said he would also raise the issue with heads of state and take the matter to the International Criminal Court.

PM Imran demanded action from the global community as he accused Modi of violating international law in pursuit of an anti-Muslim agenda in India.

"If the world does not act today… (if) the developed world does not uphold its own laws, then things will go to a place that we will not be responsible for," he added.

"The Indian government has violated its own constitution to promote its ideology and deprived occupied Kashmir of its special status."

The premier went on to warn that "there will be a reaction" from Kashmiris if India tried to "crush them", likely leading to more violence in the region which in the past has brought the nuclear-armed rivals close to conflict.

"The BJP does not consider Kashmiris as their equals. They will try to crush them leading to a reaction that could be a Pulwama-like incident," he noted. "Then they will blame us [Pakistan] for it."

PM Imran reiterated that the armed forces of Pakistan would retaliate if India pursued its aggressive designs against the country.

He added that India's decision to revoke Article 370 of its constitution was planned all along and part of Modi's election manifesto.

"Pakistan wants better ties with neighbouring countries but the incumbent Indian government is following the RSS's [Indian right-wing outfit Rashtriya Swayamsevak Sangh] fascist ideology."

Referring to his earlier move to extend an olive branch to India, the prime minister said the country had conveyed to New Delhi that it was not involved in the Pulwama attack.

"But they used Pakistan as a scapegoat," he said, adding that Indian pilot Abhinandan Varthaman, who was captured by Pakistan, was also returned to the neighbouring country as a goodwill gesture and send a message that Islamabad bore no ill will.
COMMENTS
Comments are moderated and generally will be posted if they are on-topic and not abusive.
For more information, please see our Comments FAQ