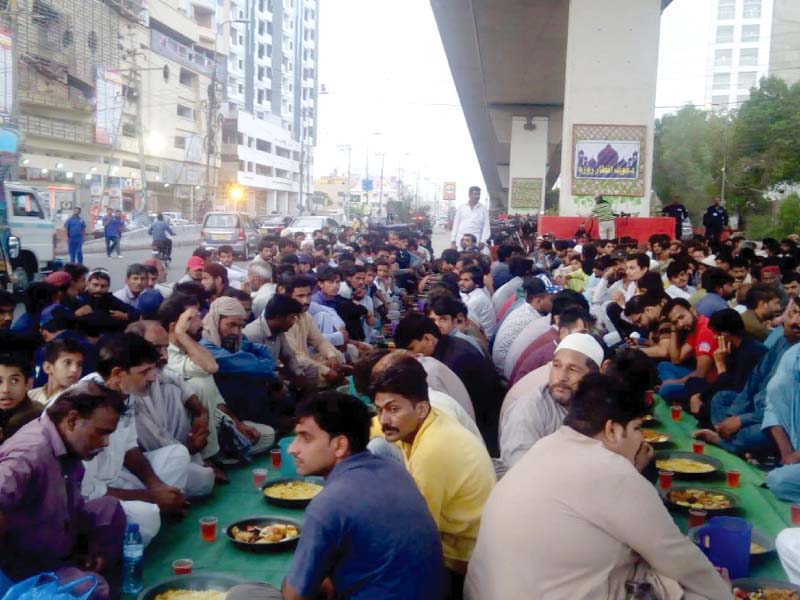 ---
KARACHI: In a city as busy as Karachi, not everyone gets to have iftar at home with their loved ones. The routine of daily life in the metropolis keeps many, regardless of income bracket, on the road by the time the call for Maghrib prayers is given.

Lucky for them, Karachiites and their legendary philanthropy are there for the rescue. The city's most fortunate have long upheld a tradition of setting up thousands of iftar dastarkhwans at various spots every Ramazan.

Improved law and order in the city has resulted in an even greater number of such arrangements this year. More than 5,000 dastarkhwans have been set up in Karachi this Ramazan, serving an estimated 2.5 million to 3 million people observing fast every day of the month. They have sprouted far and wide in the city, in localities such as Orangi Town, Site, Maripur, Surjani Town, Azizabad, Hussainabad, New Karachi, Nazimabad, North Karachi, Liaquatabad, Karimabad, Golimar, PIB Colony, Martin Road and Garden, among other areas.

Kartarpura — Pindi's gastronomic gold mine

"Those well to do in Karachi are actively arranging these public iftars in spite of rising inflation," said Imranul Haq, a volunteer for a local welfare organisation. "These dastarkhwans have multiplied as they strive to feed more and more people during the holy month."




While many such iftars are arranged by well-to-do individuals on a personal basis, welfare organisations partake in the activity as well, allowing those not super rich to indirectly fund these noble initiatives through charitable contributions. Iftars at more 700 locations in Karachi are being arranged by NGOs like the Edhi Foundation, Saylani Welfare Trust, Alamgir Welfare Trust, Al-Mustafa Welfare Society, Jaffaria Disaster Cell, Chhipa Foundation and Al-Khidmat Welfare Society.

A representative for the Saylani Welfare Trust said the organisation had currently arranged iftar at more than 150 locations. Edhi has made arrangements at 60 places, according to spokesperson Anwar Kazmi. The Chhipa Foundation has also arranged iftar dastarkhwans at 60 locations, its patron-in-chief Ramzan Chhippa said. The Al-Mustafa Welfare Society has organised a huge free food stall in Gulshan-e-Iqbal which is serving as many as 5,000 people every day.

In addition to such dastarkhwans, many well-to-do individuals have also arranged for iftar boxes to be provided to people observing fast. The boxes, which are prepared for Rs100 to Rs200, contain pieces of seasonal fruits, dates, a slice of cake, a samosa or fried roll and a portion of dahi barhay, cholay or fruit chaat, or on occasion, biryani, and are served with either a chilled water bottle or another drink, volunteers who distribute such boxes said.

"The Alamgir Welfare Trust prepares over 5,000 iftar boxes everyday to distribute in poor areas," said the organisation's joint secretary, Shakeel Dhelvi.

Other philanthropists have arranged iftar at more than 11,000 mosques and seminaries across the city.

Published in The Express Tribune, May 16th, 2019.