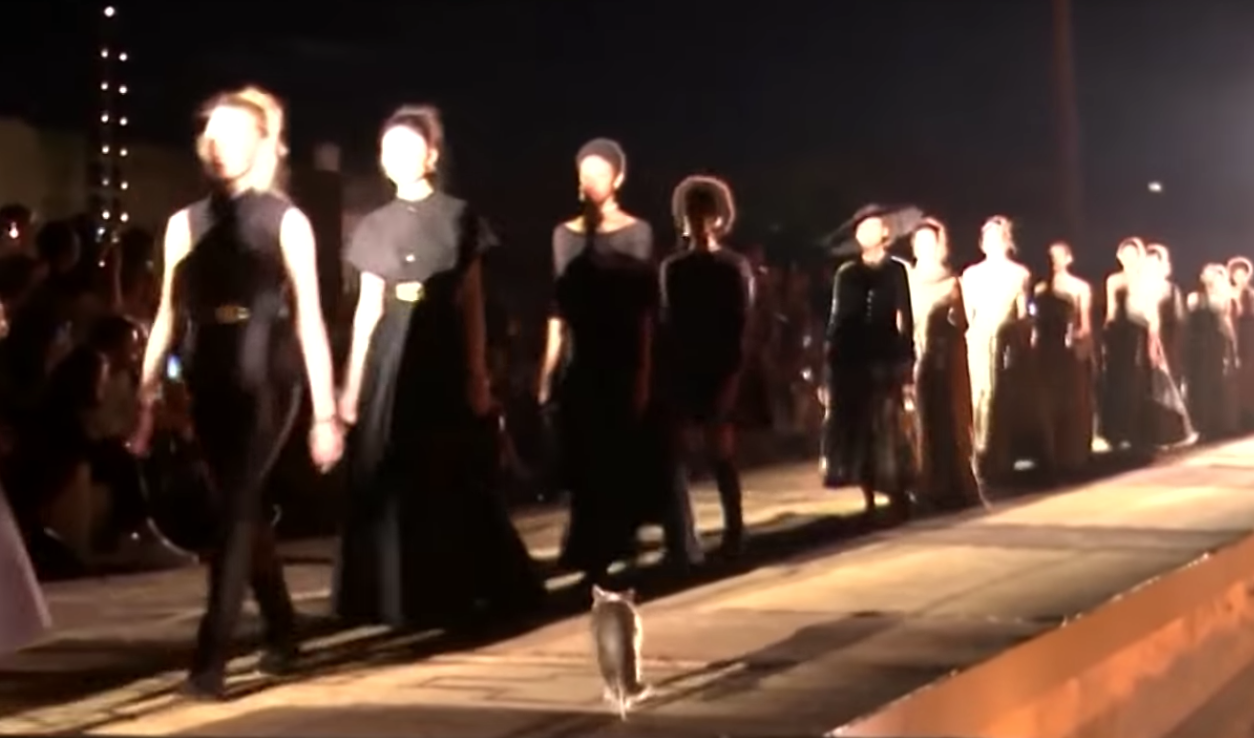 ---
An unlikely model took centre-stage at the Christian Dior fashion show in Marrakesh.

This catwalk gatecrasher purr-raded on the runway, seemingly unaware that the audience stopped photographing the models and instead concentrated on the feline.

The grey and white cat remained calm as it dodged all the fashion-clad models strutting Dior's 'Cruise' 2020 collection. Needless to say, Twitter went ablaze with cat puns.




Someone even made fan art of the feline fashionista.


A fierce feline took over Christian Dior's catwalk in Marrakech #dailynews #getinformed #worldnews #globalnews #funny #cat #catsofinstagram #cats #dior #christiandior #badlydrawnnews #badlydrawn #fashionweek #fashion pic.twitter.com/RQkatqiY3N

— Daily News Drawings (@DrawingsNews) May 2, 2019


In Morocco's most vivacious and buzzing city, the collection is a  game-changer for the luxury label with a multicultural vision led by creative director Maria Grazia Chiuri.

Celebrities such as rising star Lupita Nyong'o and Fantastic Four's Jessica Alba, along with famous influencers, were seen at the trip to experience Chiuri's latest vision.




The lavish setting comprised of an exquisite outdoor runway, surrounded by lush gardens and pools adorned with hundreds of floating tealights.




The Cruise 2020 collection fuses the prestige of local African craftsmanship into high fashion design.  Models donned breezy deep-red gowns and bejewelled dresses with patterned prints and bandanas.

I'm being punished for turning 60: Madonna

Wax fabrics featured in the showcase include material made in Abidjan, Ivory Coast after Chuiri became inspired by African textiles while reading a book on the history of crafts in the continent.

However, the brand's new global look has sparked criticism of major cultural appropriation, especially since many of the designs were worn by non-African models.




Some argued the notion of the French label's profiting from the traditions of another culture, which was previously colonised by France.

Fashion consultant and curator Anne Grosfilley, who is also a French anthropologist, maintains Dior's new collection is not about an idea of an African look, rather a "celebration of African saviour-fare that will be part of a real African economy."

Despite all this, the cat was clearly the star of the glitzy show, and social media can't get enough of it!

Watch the video here:


ICYMI: A surprise 'catwalk' at Christian Dior's latest show pic.twitter.com/lqAyuHdkWp

— Reuters (@Reuters) May 5, 2019
Have something to add to the story? Share it in the comments below.