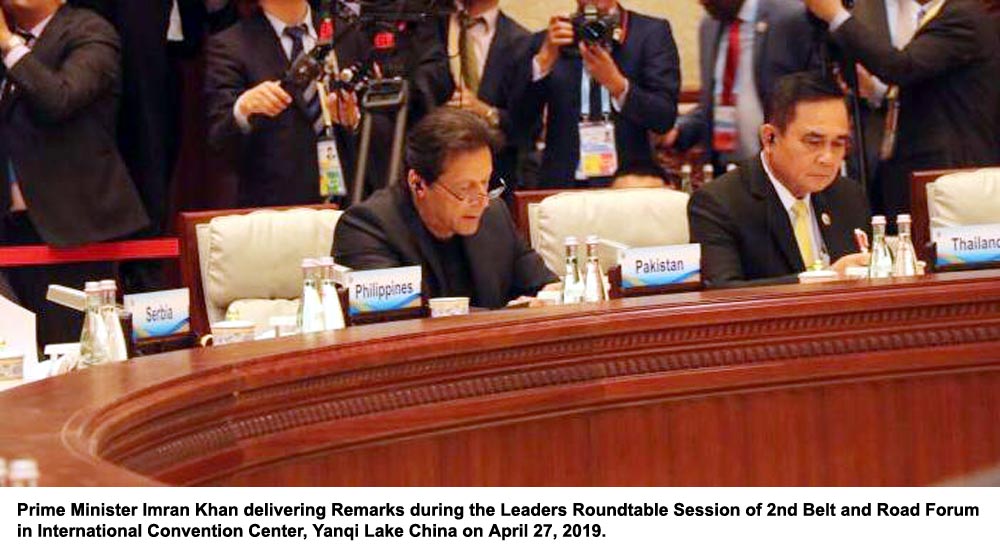 ---
Prime Minister Imran Khan has reiterated Islamabad's commitment to the China-Pakistan Economic Corridor (CPEC) and said the mega-infrastructure project is not a transaction but a transformation of Pakistani society.

Addressing world leaders during the Leaders' Roundtable session on Saturday, the second day of the Belt and Road Forum in Beijing, the premier said transformation brought by CPEC became possible due to the wisdom of China's leadership and the hard work of the Chinese people.

"China is a great success of the modern age: achieving sustained growth, transforming society, improving the quality of life of a billion people. President Xi Jinping has given the Belt and Road Initiative (BRI) vision to break barriers, connect people, integrate economies and share prosperity," said the prime minister.

It was a privilege for Pakistan, he added, to be an early partner of China. Under the CPEC project, he said, the country was building highways, modernising railroads, setting up power plants, establishing a port, and establishing Special Economic Zones.

According to the prime minister, the connectivity of Gwadar Port with China's Xinjiang region will provide a shorter route for China's imports compared to the South China Sea and reduce the cost for Chinese companies, and develop western regions of the Asian giant.

The Leaders' Roundtable was addressed by a large number of participating leaders including Russia Egypt, Singapore, Italy, Hungary, Singapore and Greece.

The premier arrived in Beijing on Thursday for a four-day official visit on the invitation of China's President Xi Jinping.

In his address during the opening ceremony of the forum on Friday, the prime minister presented five ways to further expand the BRI.

He said Pakistan was among the BRI's "earliest and most enthusiastic proponents", and spoke of the "substantial progress" achieved in CPEC.

The prime minister also attended a luncheon hosted by China-Pakistan Friendship Association, where he spoke about the support extended by the people of Pakistan for the CPEC project.