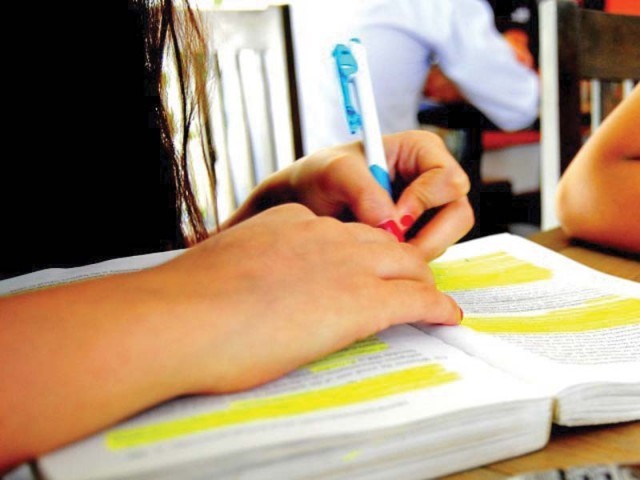 ---
KARACHI: The land dispute between the Sindh Madressatul Islam University (SMIU) and Sindh Muslim (SM) Government Science College led to 'unpleasant' incidents on Tuesday including the college principal allegedly injuring three students as she drove her car into the assembly ground and then the same principal also physically assaulting a school teacher.

The incidents led to the Urdu paper of intermediate first year Science group being postponed and an hour's delay in the Accounting examination of first year Commerce group, which was scheduled in the evening shift on the same day.

On Tuesday morning, the usual morning assembly was being conducted in the only ground shared by three institutes, when the SM College's Principal Ghazala Arshad entered the ground in her car in speed, injuring three students, including a boy and two girls.

A school teacher Farheen Afandi confronted the principal and got into an argument, over which the principal slapped her in the face. The incident enraged the students and they gathered outside the principal's office in condemnation.

Ghazala Arshad, in retaliation, refused to take the Urdu examination. Upon this, more than 500 college students started protesting over the cancellation of the exam.

SMIU, Sindh Madressatul Islam Model College and Sindh Muslim Government Science College are all situated in the same premises, where disputes over parking have become a routine.

The students, who came in the evening shift to take the Accounting paper, also protested over the delay in their exam and tried to break the doors to enter the college. They gathered outside the principal's office and shouted slogans, after which their exam was conducted.

Ghazala Arshad, while talking to The Express Tribune, casually denied that she hurt any student with her car. She claimed that she honked at the students two or three times when she entered.

Huge disconnect between teaching and exam methods, research finds

Talking about the postponed exam, she said that students of SMIU were present in the premises and since Section 144 has been imposed in examination centres, the car was brought in to scatter the students. She added that SMIU students provide cheating materials to the students of her college and that's why they were restricted from bringing their cars inside the boundary.

On the other hand, school teacher Farheen Afandi said that the school assembly was going on as usual when the car entered the ground. When she confronted the principal for her action, the principal slapped her.

Published in The Express Tribune, April 24th, 2019.