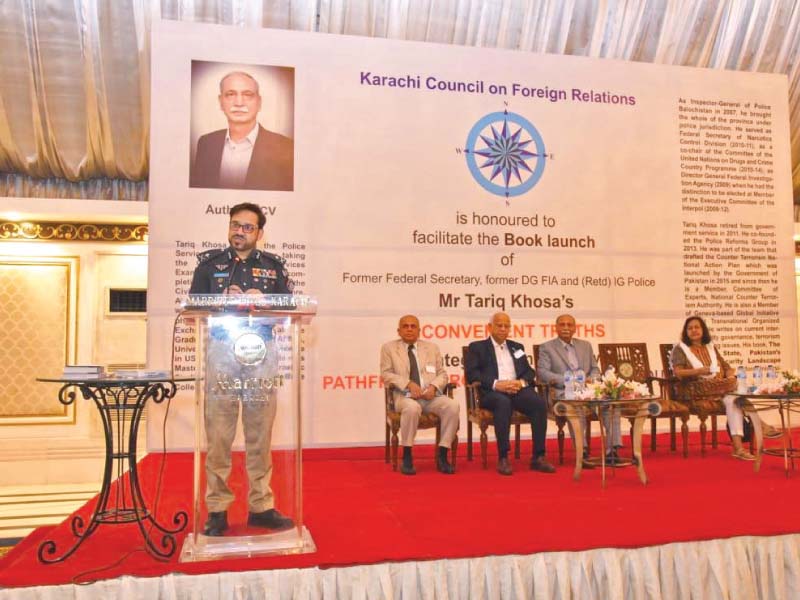 ---
KARACHI: Former inspector general of police (IGP) and former Federal Investigation Agency (FIA) director-general Tariq Khosa's book 'Inconvenient Truths' was formally launched on Friday. The book was launched at a breakfast hosted by the Karachi Council on Foreign Relations (KCFR) at a local hotel. Khosa spoke about his book, which includes eye witness accounts of the hanging of former prime minister Zulfiqar Ali Bhutto and other political events. The author said that he has recommended a six-point strategy for reforms in police and state institutions.

Present on the occasion were Sindh Police chief IGP Dr Kaleem Imam, KCFR Chairperson Ikram Sehgal, KCFR Chief Executive Officer Commodore (Retd) Sadeed A Malik, KCFR Secretary General Dr Huma Baqai, Ameena Saiyad, Lieutenant General Moinuddin Haider, and other dignitaries and senior officers of police.

Speaking on the occasion, the author said that Pakistan has the best armed forces with nuclear deterrence. "The world has already seen our response to any eventuality on the borders. Now we should not feel insecure and become a trading nation," he said.

Freedom of expression

Khosa was of the view that curbs on freedom of expression were deplorable. Social justice must be ensured as the state had no religion and should not interfere in religious practices by any minority, said the author.

HRCP urges govt to ensure freedom of expression

Armed forces, judiciary, politicians and all other institutions should join hands and work for the prosperity of nation and country, he said. "State will have to end any type of support to militants and extremists," said Khosa. He added that missing persons in Balochistan were now returning home which was a positive change.

Recalling the past, Khosa said that he had witnessed several events including the hanging of Zulfikar Ali Bhutto and the Akbar Bugti tragedy. "I never bowed down against illegal orders of superiors, even if they came from the president," he said. The author stated that former chief of army staff General (Retd) Ashfaq Parvez Kayani changed the military doctrine which was carried on by former chief of army staff General (Retd) Raheel Sharif and now by the incumbent Chief of Army Staff General Qamar Javed Bajwa. "The civilian and armed forces leadership have decided to wipe out non-state actors which is a good sign," said Khosa.

According to the author, Punjab is the centre of extremists and militants and it is to be seen what actions will be taken by the government. "Pakistan Tehreek-e-Insaf (PTI) has given a good role model in the form of Khyber Pakhtunkhwa police and they should be given credit," said Khosa, adding that police should be made accountable but it must remain an autonomous force.

Police's image

Dr Kaleem Imam said that the image of the police department was tarnished not by the cops but because of the lack of leadership. "We managers are responsible for the situation where no one is ready to trust the police," he said. The IGP added that personalities like Tariq Khosa were role models for police officials.

"Police is always on the forefront while maintaining law and order situation and over 7,000 cops of this force are martyred in the line of duty," he said. The IGP added that there was a need to enhance the capacity and skills of the police. "We have to ensure good policing," said Dr Imam, adding that checks and balance were necessary for police officials but police managers would have to inculcate professionalism amongst them.

Dr Imam deplored that at present, everything was being run on an ad-hoc basis and every person wanted police to do policing as per their wish.

KCFR Chairperson Ikram Sehgal said that reforms were needed in the police department which would also bring more relief to the common citizen. He referred to the contents of the book and lauded the services of the author. Sehgal also presented the council crest to Khosa and Dr Imam.

Published in The Express Tribune, April 13th, 2019.
COMMENTS
Comments are moderated and generally will be posted if they are on-topic and not abusive.
For more information, please see our Comments FAQ