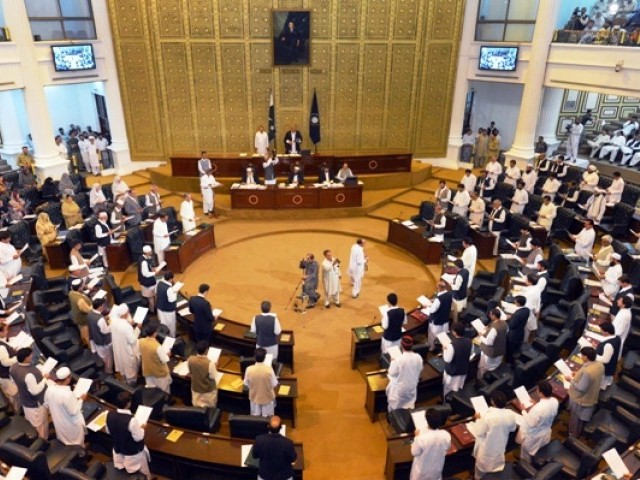 ---
PESHAWAR: The opposition parties in Khyber-Pakhtunkhwa Assembly have asked the government to bring the proposed local government system in the house for discussion as well as to hand it to the select committee of the assembly.

The assembly discussed the distribution of funds and powers in the new local government system in which the Leader of Opposition Akram Durrani said that the local government system was the nursery of democracy from where the public representatives emerge.

He added that the government was not using the constitutional channel to change the local bodies system.

The government should take local representatives and opposition in confidence before making any amendments to the LG system.

"The government should clearly state whether district councils are being finished or village councils are being reduced," Durrani said.

ANP parliamentary leader Sardar Hussian Babak said it was insane that a system was being changed just four years of its imposition. He said that any issues in the system should be rectified instead of changing the whole system.

He said it was heard that new elections would be held on condition of education and non-political basis and added that this practice will weaken the democracy.

MMA legislator Inayat Ullah said that district council was made on the constitutional basis however it would be a violation of constitution if these were dissolved.

PTI's Liaquat Ali Khan said his party was being blamed for every problem. The debris of past 65 years of bad-governance should not be put on the shoulders of the current government.

Sardar Aurangzaib from PML-N, said that there should be no new experiments whereas the current local government system should be improved.

Maulana Lutfur Rehman from MMA , said that new local government system was not realistic and expressed reservations that the assembly members were not being given importance.

Information Minister Shaukat Yousufzai said that the local government system of K-P was better than that of Sindh and Punjab and added that new leadership had emerged from this system. He added that local bodies will not get extension and they will dissolve on August 28.

He told the house that the local government draft bill was being prepared which would be presented before the cabinet and the assembly and assured the opposition that it would be discussed with them.

Adviser to CM on Science and Technology Kamran Banghash said that PTI government fulfilled the promise it made in its manifesto and introduced a new local government system in 90 days.

He added that 30% share of ADB was being given to the local bodies.

The adviser said there were mistakes in the new system however it will be presented in the assembly after amendments.

Published in The Express Tribune, April 9th, 2019.
COMMENTS
Comments are moderated and generally will be posted if they are on-topic and not abusive.
For more information, please see our Comments FAQ