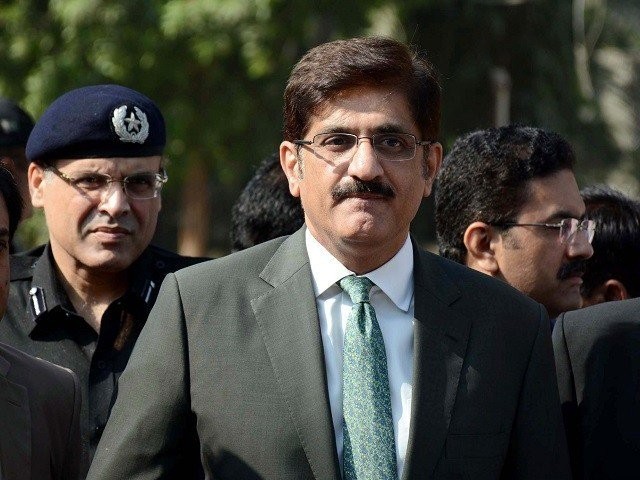 ---
KARACHI: The Sindh Chief Minister (CM) Murad Ali Shah has said that the Centre's condition of laying transmission lines in Thar project was a bitter pill to swallow. Empty promises were made of providing funds to Sindh but to no avail, he claimed adding that up to one billion rupees have already been spent on the infrastructure of Thar district. Sindh's gas, electricity and other resources have been robbed, now the coal resources are also under threat.

Shah expressed these views while talking to the media after attending the two-day Shah Abdul Latif Bhittai National Conference organised at Mohatta Palace in collaboration with Siraj Institute and Endowment Fund Trust. The conference was inaugurated by the CM while the inaugural session was presided over by Dr Fehmida Hussain.

Murad launches Rs4bn uplift schemes in Karachi

Shah welcomed all the honourable guests and participants while addressing the conference and said that the institute was focused towards the right direction. He said that Sindh is the cradle of knowledge and literature as readers and followers of Shah Abdul Latif Bhittai have gathered here in this national conference to spread across Bhittai's message.

Shah further said that today's society valued culture and tradition more as compared to the societies of past. The reason for this is that all of us are moving forward in degrees, may it be about political awareness, religious or cultural. Bhittai's message of peace and fraternity is very important in current times, he said adding that we would do well if we read and understood Bhittai. "We need to work on our language, literature, traditions and culture very much. When Noorul Huda Shah asked me that had I read Bhittai? I said that my father recited Bhittai's verses to me when he walked me to school in my childhood."

"Through this conference, we need to learn the message of Bhittai and act upon it so that we could transfer it to our next generation", he said adding that this was the only way we would be able to keep up with our tradition, language and literature. Children should read Bhittai's poetry no matter what their mother tongue is, Shah suggested.

Sindh CM Murad wants to transform jails into correctional facilities

While answering a question regarding the Thar project, the CM said that we had to swallow the bitter pill when this project had started because the issue of transmission lines was complicated. He informed that the Centre had imposed a restriction that the electricity generated by the project will go to the national grid. The electricity is being transferred directly to Faisalabad through the transmission line at Matiyari. They are taking the electricity from the other line as well, Shah said. "Sindh has been serving Pakistan with its resources."

Three books by Siraj Institute were introduced at the event, namely Manzarnamo, Mullah Ji and Shakespeare Ki Kahaniyan. A large number of representatives from academic and administrative departments, professors and writers attended the conference.

Published in The Express Tribune, April 7th, 2019.