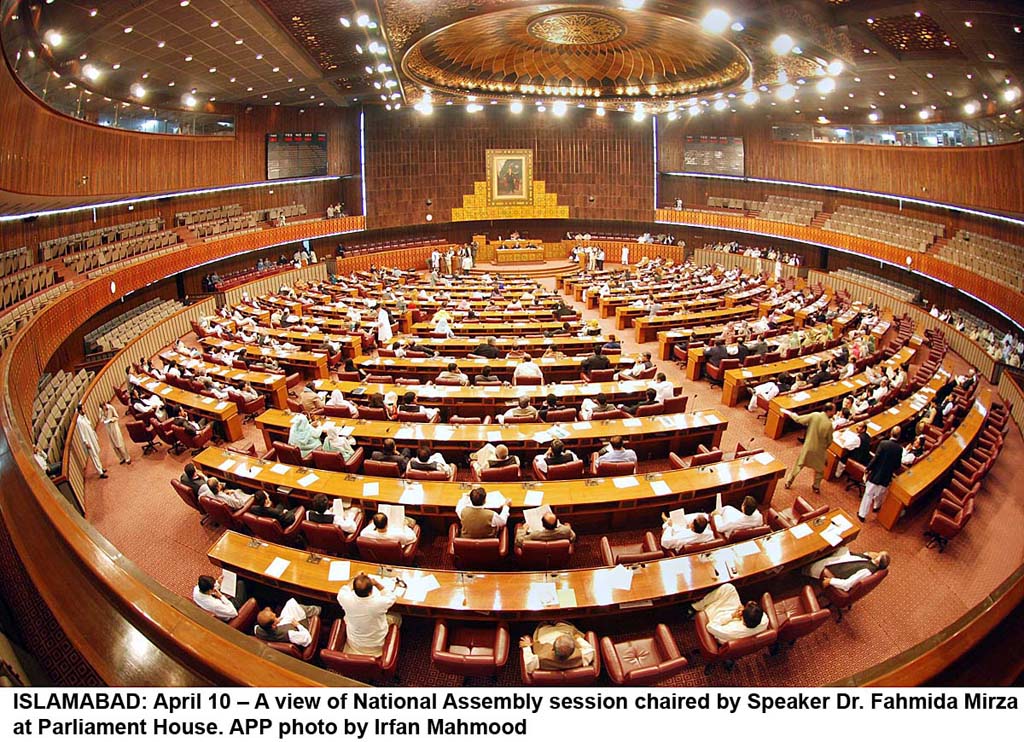 ---
ISLAMABAD: The National Assembly's Standing Committee on Law and Justice has called for legislation to stop the forced conversion of non-Muslims.

In a meeting held on Wednesday chaired by MNA Riaz Fatyana, the committee also ordered the law and justice ministry to submit details of domestic violence cases.

The committee directed the representatives of the law ministry to devise a mechanism to ensure that departments implemented approved legislation during a fixed timeframe.

It also directed the ministry to ask government departments to furnish reports about the status of the implementation of laws.

The committee decided to form a sub-committee under Rule 224 (1) of the Rules of Procedure and Conduct of Business in the National Assembly, 2007 to consider two bills seeking amendments in Articles 51 & 106 of the Constitution and formulate proposals to improve laws dealing with domestic violence and domestic labour.

Ruckus in National Assembly after minister's 'traitor' remark

The sub-committee comprising convener Syed Hussain Tariq and three other members Khawaja Saad Rafique, Aliya Kamran and Lal Chand would present its report within 30 days on the matter.

A representative of the Pakistan Law and Justice Commission told the committee that recommendations had been prepared on the mishandling of passengers by airlines in line with the Supreme Court's verdict in a human rights case.

The committee deferred its debate on the reports of judicial commissions on the terrorist attack on the Sri Lankan cricket team in Lahore and the murder of judges in Sialkot District Jail on the request of the Punjab Home Department representative.

However, it directed the Punjab home secretary to present its reports on the issues in its next meeting.

A representative of the Pakistan International Airlines informed the committee that with the exception of one complainant, the families of victims of Multan and Chitral air crashes had been compensated.

Opposition stages walkout from National Assembly

The complainant had refused to accept the compensation as his case was still pending in the court.

The committee decided to invite the complainant and representatives of the Civil Aviation Authority in its next meeting.

The MNAs who attended the meeting included Atta Ullah, Lal Chand, Muhammad Farooq Azam Malik, Maleeka Ali Bokhari, Muhammad Sana Ullah Khan Masti Khel, Malik Muhammad Ehsan Ullah Tiwana, Agha Hassan Baloch, Sher Ali Arbab, Shunila Ruth, Rana Sanaullah, Chaudhry Mehmood Bashir Virk, Usman Ibraheem and Khawaja Saad Rafique.
COMMENTS
Comments are moderated and generally will be posted if they are on-topic and not abusive.
For more information, please see our Comments FAQ