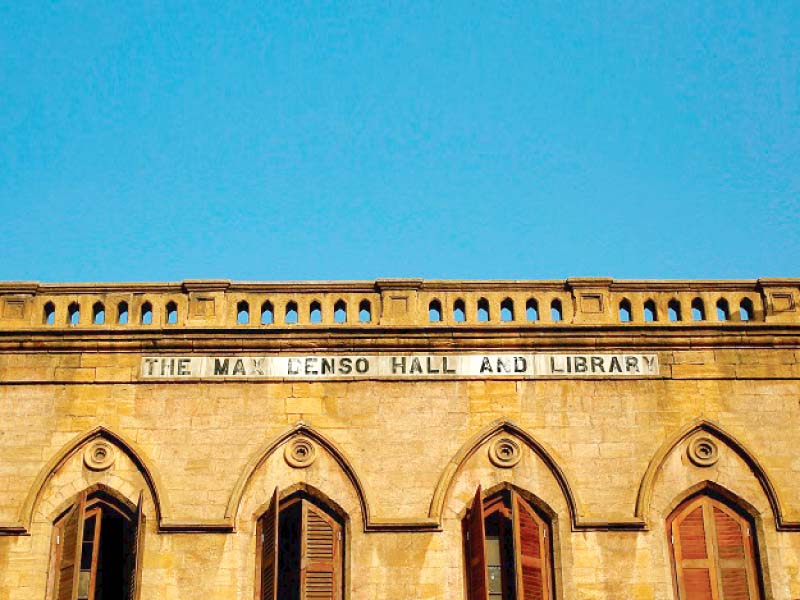 ---
KARACHI: The historic Denso Hall Facade Cleaning Festival, jointly organised by Heritage Foundation Pakistan and Karachi Rotary Club, will begin on April 14.

The decision was made during a meeting chaired by Karachi Commissioner Iftikhar Shallwani on Monday in which he promised the full cooperation of the local administration in the efforts to restore the city's heritage.

In a briefing about the campaign, Founder of the Heritage Foundation and renowned architect, Yasmeen Lari, said that the first step towards bringing back the glory of Karachi would be cleaning the facades of Karachi's historic buildings. Beginning with the historic Denso Hall, that was constructed in 1886, the facades of all buildings located on Marriott Road will be taken up one by one every Sunday by volunteers. The voluntary movement to make Marriott Road a pedestrian area and safeguard Karachi's heritage will create livelihood opportunities, she hoped. Rotary Club Karachi is a partner in this noble venture, and the government has given it its blessings, she added.

Lari made detailed presentation on the method for gentle scientific cleaning of Karachi's beautiful buff coloured stone to heritage volunteers. The campaign provides an opportunity to all Karachiites to participate in restoring the city's heritage. During the festival, a community and youth outreach arm of Heritage Foundation, KaravanPakistan, will organise various activities from music to street theatre to sketching.

The commissioner said that the Sindh government was putting their best efforts for the development and beatification of the city. Those from civil society who want to contribute would be considered a great support and would be encouraged and provide all possible support, he added. He expressed hope that the programme would create awareness about the various environmental aspects and added that it would help define the way government agencies and civil society can cooperate in the future to make Karachi not only the cheapest city but among the most liveable cities.

Shallwani directed the officials of Karachi Metropolitan Corporation, district municipal corporations, Traffic Police and other related agencies to provide all possible support for the cleaning and beautification work conceptualised by the Heritage Foundation. The rehabilitation work of the historic buildings and the historic streets would also be carried out with the support of expert stakeholders from the Heritage Foundation Pakistan, he added.

He said that the administration will provide security and traffic arrangements to volunteers participating in the scientific cleaning of facades of historic buildings.

Published in The Express Tribune, April 3rd, 2019.
COMMENTS
Comments are moderated and generally will be posted if they are on-topic and not abusive.
For more information, please see our Comments FAQ