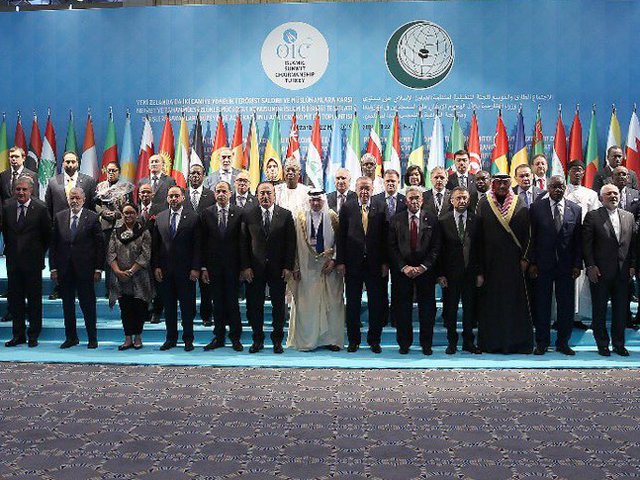 ---
The Organisation of Islamic Cooperation (OIC) on Saturday urged the UN Secretary General to convene a special session of the UN General Assembly to declare Islamophobia as a form of racism and to assign a special rapporteur for monitoring and combating the menace in the western countries.

The Emergency Meeting of the OIC Executive Committee, convened in Istanbul, also strongly condemned the "horrendous and despicable Islamophobic terrorist attacks on two mosques in Christchurch, New Zealand".

The meeting concluded with a unanimous call that the OIC must play a proactive role in countering demonisation and denigration of Islam and Muslims and adopt a comprehensive strategy in this regard, Radio Pakistan reported.

FM Qureshi urges UN to form laws to tackle Islamophobia

A final communiqué, issued at the conclusion of the conference, appreciated the New Zealand government for its unequivocal condemnation of the terrorist attacks. It called upon all member states to respect the freedom of religion of all Muslims and not to deny them the right to exercise their civil and cultural rights.


Open Ended Emergency Meeting of the #OIC Executive Committee held at the level of Foreign Ministers in #Istanbul, #Turkey, on the savage terrorist attack which took lives of 51 Muslim worshippers in #Christchurch, #NewZealand: https://t.co/o7AdI867xA #OICNewZealandTerrorism pic.twitter.com/Zd0HykqWXG

— OIC (@OIC_OCI) March 23, 2019


All presumptions of guilt or attributions of potential crimes, extremism and terrorism to ordinary Muslims were also firmly rejected.

Foreign Minister Shah Mahmood Qureshi, while addressing the gathering, expressed Pakistan's strong condemnation of the March 15 terrorist attacks that killed at least 50 Muslims offering Friday prayers at two Christchurch mosques. Nine of the martyred were Pakistani citizens.

He lauded the valour of Naeem Rashid, who challenged the white supremacist attacker in complete disregard of his own life and aimed to saving the lives of many others, said a statement issued by the Foreign Office.

Imran proposes strategic alliance to combat Islamophobia

The foreign minister said that the rise in Islamophobia in the western countries and India had morphed into violent expression of this abhorrent manifestation of racism. "The international media must refrain from propagating narratives of stigmatisation of Muslims and their negative stereotyping," he emphasised.


#OIC Foreign Ministers Call for Action to Counter anti-Muslim Hate Narrative: https://t.co/SlTo4Wt5Yg #OICNewZealandTerrorism #newzelandterroristattack #ChristchurchTerrorAttacks pic.twitter.com/9OLl0BFaQt

— OIC (@OIC_OCI) March 23, 2019


The foreign minister called upon the global Muslim community to douse fire with water, falsehood with truth, bigotry with understanding and intolerance with compassion.

Foreign Minister Qureshi expressed grave concerns over the use of Islamophobia and Xenophobia as vehicles for narrow political gain.

The foreign minister also met a number of leaders on the sidelines of the meeting, including the foreign minister of Turkey, the deputy prime minister/foreign minister of New Zealand and the foreign minister of Iran, and discussed matters of mutual concerns with them.
COMMENTS
Comments are moderated and generally will be posted if they are on-topic and not abusive.
For more information, please see our Comments FAQ