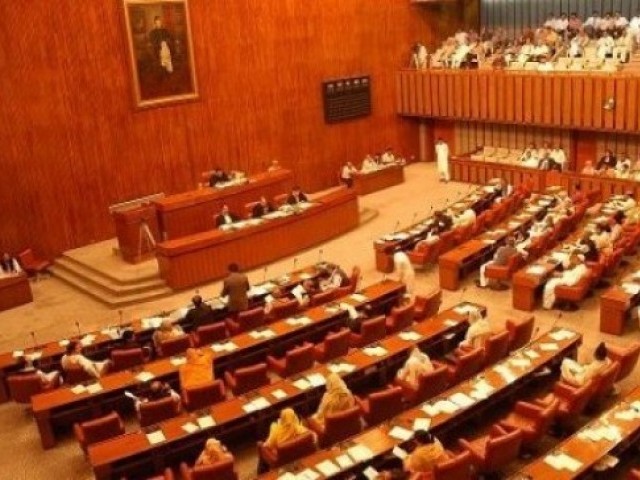 ---
ISLAMABAD: Leader of the House in Senate Shibli Faraz on Tuesday said bills related to the extension of military courts and amendments in National Accountability Bureau (NAB) would be approved unanimously.

Reiterating his government's resolve to eradicate corruption, he stressed the need for introducing amendments in NAB laws, including plea bargain and powers of the chairman.

In a briefing to media persons over performance of the Senate during Parliamentary year 2018-19, Faraz

said in March new senators joined the House after general elections were held. Absence of government for four months slow down the legislation process, he added.

Elaborating details about the legislative business, he said a parliamentary caucus on climate change was established to sensitise every stakeholder about climate changes to collectively defeat those looming environmental changes.

As many as 50 new senators joined the House and because of the new government for five months the sessions were conducted in House.

NAB files second reference against Fawad

Owing to the public concerns, a special committee on circular debts was set up to examine all individual components of the circular debt and the government's initiatives to reduce it, he added.

He said the house had introduced 28 private and 15 government bills, while seven ordinances were brought up during 2018-19. In 2017-18, the ratio was comparatively low as some 19 private and three government bills were tabled in the senate, Faraz added.

The leader of the house said the senate met in 13 senate sessions with 111 working days and 78 actual sittings, adding that the attendance of the senators had also been improved to 64 per cent.

He said nearly 4,000 questions were received by the secretariat. The senate secretariat also received around 322 resolutions and 20 government bills were approved.

As many as 432 motions were received by the secretariat under rule 218. Over 379 were admitted and 16 were disallowed while 37 lapsed.

The senator said that during the period, the senators submitted 155 adjournment motions.

NAB told to resubmit record in Zardari, Talpur case

He said that special committees have played an important role in legislative process.

He also underlined that Senate should have a crucial role in money bill, which requires constitutional amendments.

Moreover, he said formation of committees in National Assembly also disturbed the lawmaking process.

He said that in the upcoming year legislations would be brought on steadfast basis. Many laws are ready to be presented in House, he added.

The senator said that the treasurer had support of opposition in legislation matters. He added that laws that were not amended by the Pakistan Peoples Party and the Pakistan Muslim League-Nawaz would be amended unanimously.

Faraz also underlined the substantive legislation carried out by the senate on various issues, including mainstreaming of erstwhile Federally Administered Tribal Areas, protection of children, women and transgender rights, workers and migrants rights and health care services.

After almost ten years, the special committee on Kashmir Affairs was converted into a parliamentary committee, having representation from the both houses of the parliament.

The committee would positively contribute to the Kashmir cause and highlight the human rights violations in Indian Occupied Kashmir at every forum, he added.

To another query about parliamentary diplomacy, he said the senate had gathered parliamentary leaders from 26 countries in Asian Parliamentary Assembly meeting, which was held at Gwadar under the leadership of Senate Chairman Sadiq Sanjrani.

The senator also condemned the brutal attack on mosques in Christchurch and said a resolution was presented in the House   which paid a tribute to the New Zealand government.

Upon his party's stance on corruption, Faraz said his party "had called for eradicating corruption not for zero corruption". He added that steps are under way for ending corruption.

The senator said the ties between government and opposition have soured due to corruption cases.

Government is focused on bringing legislation, he stressed.
COMMENTS
Comments are moderated and generally will be posted if they are on-topic and not abusive.
For more information, please see our Comments FAQ