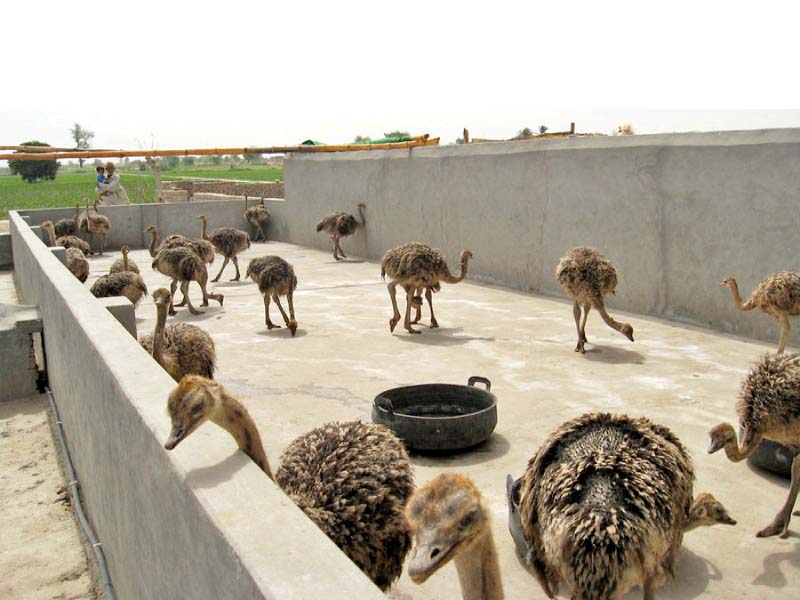 ---
SARGODHA: The livestock and dairy development department is striving hard to encourage people for Ostrich farming due to its rising demand and reasonable earning.

This was said by Livestock Director General (Research) Dr Muhammad Iqbal during his visit to Sargodha on Friday.

He said that Ostrich farming could fulfill nutritional needs as its meat was delicious and beneficial for human health. He maintained the government was striving hard to promote its farming to fulfill nutritional requirements.

"The 'Murghi Paal scheme' has also been introduced and the government is providing 30% subsidy for the purpose," he added.

Iqbal mentioned the second phase of the scheme would be started soon.

Ostrich farming gaining ground in Punjab

He highlighted that Ostrich farming was being considered as a profitable business and its meat consists of low cholesterol, fat, and protein levels as compared to chicken.

"The ostrich farming can be started with 25 birds and each bird gains 100 kilogrammes of weight within ten months while it is similar to the goat meat in taste," the livestock official elaborated.

He said the livestock department started distribution of ostrich meat in different cities and it was also available at various prominent sale points. "All types of assistance and subsidies are being provided by the government for the promotion of ostrich population," he said.

The Livestock department was also providing technical support and consultation for establishing successful ostrich business, while efforts were also underway to enhance egg production, Iqbal commented.

Ostriches are farmed on a commercial basis in dozens of farms across Punjab for their meat, hide and feathers. The bird's meat, a very similar in taste and texture to mutton but containing very low content of cholesterol and fat, can provide a solution to Pakistan's increasing requirement of protein-containing meat amid escalating prices of mutton, beef, chicken, etc.

Rs90.57 million to boost ostrich farming

Ostrich, which is now considered to be a part of livestock in Punjab, is becoming a popular source of meat due to its delicious taste and health benefits.  Pakistan has not only the 'perfect' climatic conditions for ostrich farming it has also the required manpower, infrastructure and feed much cheaper than many other countries.

Many people have taken ostrich farming as a business. In recent years, the government has taken various measures to boost the sector. However, still awareness and more efforts are needed to convert ostrich farming into a profitable business.

Published in The Express Tribune, March 16th, 2019.
COMMENTS
Comments are moderated and generally will be posted if they are on-topic and not abusive.
For more information, please see our Comments FAQ