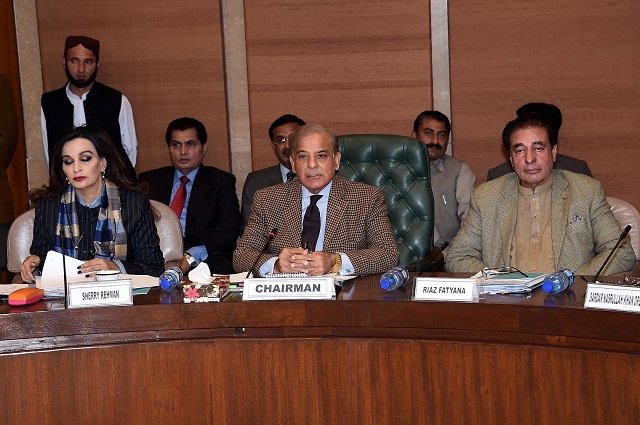 ---
ISLAMABAD: A sub-committee of the Public Accounts Committee (PAC) on Friday reviewed 2014-15 audit objections against the Ministry of National Food Security and 2015-15 audit objections against institutions working under it as it took up the issue of supplementary grants.

Senator Sherry Rehman, who chaired the session, observed that supplementary grants have turned into a tradition, and that the committee will not settle grants without approval from the parliament.

Meanwhile, the national food service ministry secretary maintained that supplementary grants were taken under the head of salaries, and that is why they should be settled. The convener said that the committee has taken its decision that PAC will settle the grants only after approval from the parliament.

The audit officials informed the panel that a consortium arranged Rs5.33 million for a national food security project in 2015. However, only Rs1.179 million was spent on the project, while remaining Rs3.611 million was surrendered. It was also informed that a grant of Rs290 million had lapsed.

Rehman censured the ministry and inquired why the allocated funds were not utilised for the project and why the funds were surrendered on the account of savings.

The secretary of national food security ministry maintained that funds were issued to them on June 10 and it was not possible for them to refund the same on May 15.

The committee convener maintained that the institution was not ready to start work even after allocation of funds. "The financial system cannot operate like this and we know that the financial department has the practice of delaying funds," Rehman said, adding that the committee will try its best to mend the system.

She said that the finance ministry should ensure timely payments for all approved funds. She further said that the PAC would need to have a combined meeting to discuss and resolve the issue of supplementary grants.

During the meeting, the ministry reviewed audit objections amounting Rs81 billion. The audit officials told the committee that the ministry did not submit its internal audit report to the auditor general. They said that internal audit of the projects could not be kept private.

The committee also discussed the issue of alleged corruption of Rs58 million at the hands of Pakistan Agricultural Storage and Services (Passco) officials. The committee assigned the matter to departmental audit committee and demanded a report from Passco officials by June 30.

Passco MD Muhammad Khan Kachhi said that the governments of Azad Jammu and Kashmir and Gilgit-Baltistan had Rs52 billion in outstanding dues. "Passco has donated wheat amounting 50000 tonnes to Yemen, Afghanistan and Tajikistan. Passco takes bank loans for procurement of wheat but the institution is facing troubles due to poor recoveries," he told the committee, adding that dues amounting Rs152 billion are payable to banks.

The committee also decided to take the matter pertaining to supplementary grants to the main committee.