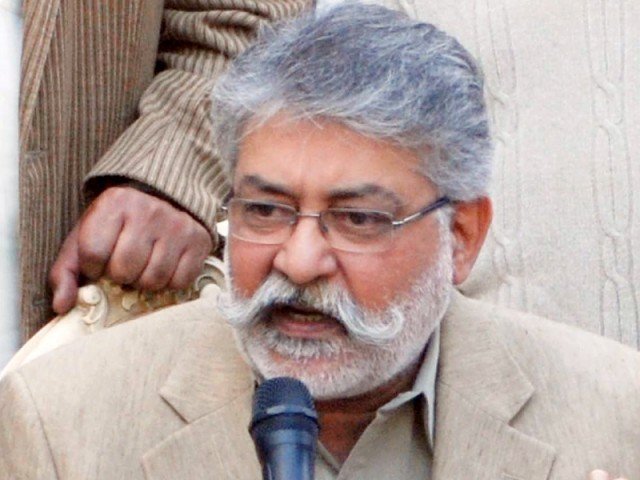 ---
HYDERABAD: The Grand Democratic Alliance (GDA) has asked supporters to begin preparations for the local government elections. "I wish to the see the GDA organised at the union council level," said GDA President Pir Pagara Sibghatullah Shah Rashdi who also heads Pakistan Muslim League-Functional (PML-F) and the spiritual Hurr Jamaat.

He was speaking to the media and his supporters in Matiari district where the GDA's leaders also held a meeting at Jamote House.

GDA General Secretary Ayaz Latif Palijo, Zulfiqar Mirza, Sadaruddin Shah Rashdi, Ali Muhammad Mahar, Ghulam Murtaza Jatoi, Safdar Abbassi, Arbab Ghulam Rahim, Shaharyar Mahar, Nusrat Sehar Abbassi, MPA Hasnain Mirza and other leaders attended.

Pagara said that GDA leaders will visit all districts of Sindh to organise the alliance. He added that the GDA will fully participate in the local government elections. "We want to provide alternative leadership to the people."

Before summer: GDA plans new projects

He asked supporters to start preparation for the local government elections, assuring that the alliance will defeat the Pakistan Peoples Party (PPP). He said the GDA has become the second largest party in Sindh through its political struggle. "The people of Sindh have become increasingly unhappy with poverty, unemployment and corruption."

Pagara also appealed to his supporters and spiritual followers to support the Pakistan Army which is in combat mode to protect Pakistan from Indian aggression. He asked them to support the soldiers who are deployed at the borders.

Palijo deplored that the problems of Sindh's people have been ignored by both the provincial and federal governments. He asked the Pakistan Tehreek-e-Insaaf (PTI) government to announce a development package for Sindh and open employment opportunities for the people of the province.

"We are organising the GDA in Sindh. The fortresses of corruption and cruelty will be razed soon [in the province]." The former Sindh home minister Zulfiqar Mirza asked the 'plundered people' of Sindh to wake up as he promised to continue the fight for their rights.

MPA Hasnain Mirza while referring to PPP leaders said the people who use the Sindh card in Islamabad are liars. "Sindh is not a card which some persons can use to hide their corruption and prevent their accountability."

He bewailed that an artificial shortage of water has been created in Badin district where a large number of people voted for Mirza against the PPP.

Safdar Abbassi, leader of the PPP-Workers, alleged that Rs2,000 billion which Sindh was receiving under the National Finance Commission Award have been plundered.

"We want to liberate the people of Sindh from Asif Ali Zardari [former president and PPP co-chairperson]," vowed former Sindh chief minister Arbab Ghulam Rahim. 

Published in The Express Tribune, March 14th, 2019.