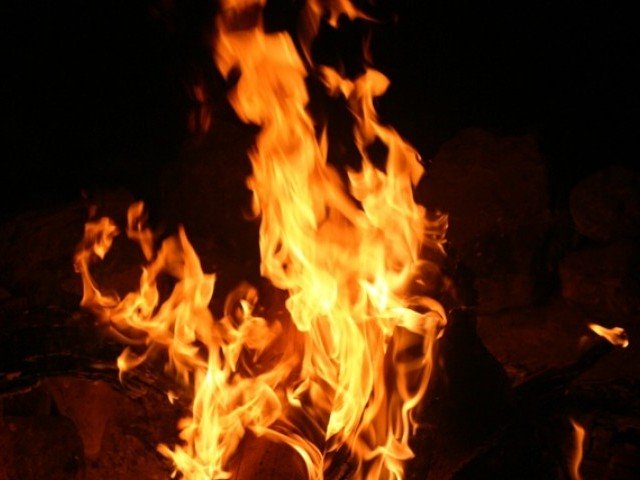 ---
TOBA TEK SINGH: A woman, who was allegedly set ablaze by her husband and in-laws over domestic disputes in Kamalia City on March 10, is still battling for her life at the hospital, Express News reported on Monday.

Doctors at Allied Hospital Faisalabad said the condition of the victim was critical as 70% of her body was burnt. They added all efforts were being made to save her life.

Reportedly, 31-year-old Sadia Zafar, a resident of Shor Kot City, tied the knot with Ali Imran, a resident of Bahlool Wala area, some five years ago.

Soon after the marriage, differences developed between the woman and her in-laws. They used to have arguments over minor issues.

On the day of the incident, Sadia had a heated debate with her husband Ali, sister-in-law and father-in-law Manzoor Hussain.

When the arguments escalated, the victim's husband and in-laws allegedly doused her with petrol and set her on fire.

As a result, Sadia suffered severe burn injuries. When people from the neighbourhood heard the woman's screams, they reached the spot and shifted her to Tehsil Headquarter Hospital Kamalia for treatment. Later, she was referred to Allied Hospital Faisalabad for medical assistance.

In a similar incident on March 1, a woman was critically injured after her husband set her ablaze in Darya Khan Tehsil, Bhakkar.

Reportedly, Shehzad and Rubina married a few months ago. However, the couple separated after which Rubina had started living at her brother's house.

On the day of the incident, Shehzad went to meet Rubina at her brother's home. He urged her to reconsider their divorce decision. When she refused, he doused her in petrol and set her on fire.
COMMENTS
Comments are moderated and generally will be posted if they are on-topic and not abusive.
For more information, please see our Comments FAQ