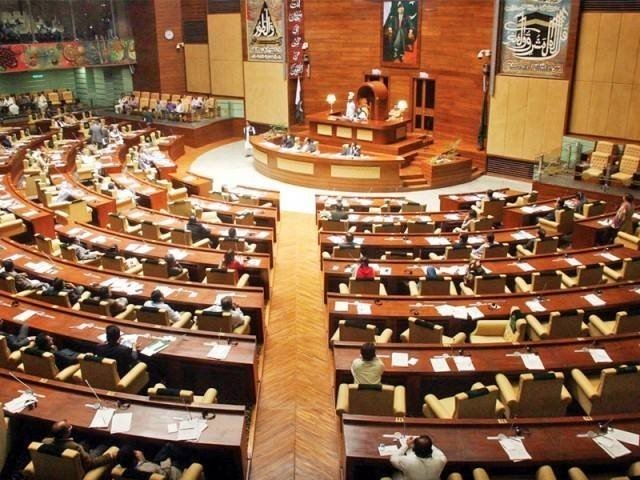 ---
KARACHI: With the lowest participation rate of members, the current Sindh Assembly has set a new record. A total of 50 of the 168 parliamentarians neither raised their voice on any issue nor participated in any legislation work or debate. These silent members belong to the treasury and opposition benches alike.

Sindh Assembly, that had the honour of passing the first resolution demanding a separate homeland for the Muslims of the subcontinent, is undergoing the longest session in its history.

The fourth session that began on January 9 is continuing for 27 days and lasted for over 77 hours and 20 minutes.

The session was adjourned thrice without any proceedings and some of the meetings have lasted for over three hours. The longest session was held on February 22 which lasted for five hours. On average, however, a session lasted between two to three hours.

During the session, important legislative work was done on issues relating to health, education, and municipal as well as on matters of the country's defence and security.

Opposition holds a mock assembly session

During this on-going session, surprisingly over 50 members of the assembly did not participate in the proceedings. On average, 60 to 71 lawmakers attend each session.

The Pakistan Peoples Party MPAs are leading the count.  Nearly 20 PPP members spoke only for one to four minutes. Others like Abdul Karim Soomro, Abdul Rauf Khoso and Ahmed Raza Shah Jeelani did not have any public issue to discuss in the Sindh Assembly. A close relative of Asif Ali Zardari's, MPA Ali Hassan, attended several assembly meetings, but he did not take part in any proceedings.

Some PPP MPAs did not have any issues to discuss with regard to their constituencies or any suggestions to offer on the legislation under review. These MPAs include Awais Bijar Khan Jokhio, Bashir Ahmed, Giyan Chand, Sardar Hizbullah Bughio, Khan Muhammad Dahri, Mahmood Alam Jamot, Nawab Sardar Khan Chandio, Noor Ahmed Bhurgri, Sardar Ghulam Abid and Sayed Ghulam Shah Jilani.

On the other hand, several members of PPP skipped the sittings altogether. These include Nadar Ali Magsi, Ali Nawaz Khan Mahar, Tariq Masood Arain, and Makhdoom Rafiq Zaman, Muhammad Taimur Talpur, Jam Khan Shoro, Sohail Anwar, Muhammad Ali Malkani, and Malik Asad Sikander.

However, PPP lawmakers are not alone to blame. Several members from the opposition parties are also among the 'non-participants'.

Muttahida Qaumi Movement - Pakistan's (MQM-P) MPA Muhammad Abbas Jaferi has neither presented any issue relating to the elected constituency nor moved any resolution. Hameeduz Zafar and Nasir Hussain Qureshi were also among the 'silent members'.

The Pakistan Tehreek-e-Insaf (PTI) MPAs also form a significant part of the list.

Karim Bux Gabol and Syed Muhammad Abbas Jafri did not raise voice for the solution of any public issues during the Sindh Assembly sessions.

In the case of Grand Democratic Alliance (GDA), three out of 14 lawmakers also observed silence in the Sindh Assembly. Ali Gohar Khan Mahar, Muhammad Rashid Shah, Moazzam Ali Khan skipped several sessions along with Muhammad Younus Soomro of Tehreek-e-Labbaik Pakistan.

MQM-P's Sanjay Perwani and PTI's Muhammad Aslam Abro did not attend several sessions.

Chaos in Sindh Assembly after MMA MPA manhandled

Assembly expenses

On a daily basis, nearly Rs1.7 to Rs1.8 million is spent on the Sindh Assembly. The provincial assembly members get session allowance for each session while a huge amount in lieu of session allowance is paid to the officers and employees of the Assembly Secretariat.

Millions are spent annually for security, electricity, air condition and sound system for the Sindh Assembly sessions.

Each member of the assembly is paid travelling allowance for every session.

They are paid monthly salaries, medical vouchers, and telephone bills and provided with other facilities separately.

The travelling allowance for cities other than Karachi is higher while officers and employees of the assembly secretariat are also paid the session allowances in accordance with their grades.

Published in The Express Tribune, March 10th, 2019.
COMMENTS
Comments are moderated and generally will be posted if they are on-topic and not abusive.
For more information, please see our Comments FAQ