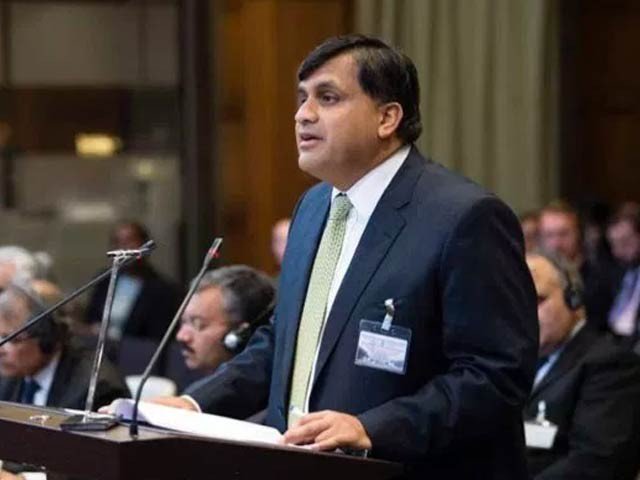 ---
ISLAMABAD: Pakistan has said that it has defeated India on the military, political and diplomatic fronts. The government also reiterated its desire for peace while stating in no uncertain terms that it should not be considered a weakness.

"We are making it clear not to consider our desire for peace as weakness since we have proven our capability to defend the country," Foreign Office Spokesperson Dr Muhammad Faisal said during the weekly briefing. He added that a dossier has been received from Delhi and Islamabad will respond to it after review.

He said Pakistan was ready to hold talks with India on issues including Siachen, terrorism and development, while adding "Kashmir dispute will remain the central point of dialogue."

On the recent boycott of Foreign Minister Shah Mehmood Qureshi to attend the Organization of Islamic Cooperation's (OIC) moot in Abu Dhabi, he said "No way Pakistan could accept India's participation at the event as it was in violation of OIC's multiple resolutions."

He said that Pakistan will not allow India to assume a decisive seat in the OIC. "The discretion to send invitations to other countries lies with the host country. India was not invited by the OIC but the UAE government," he said and added that Islamabad was in touch with Abu Dhabi to sort out the issue with hopes of positive outcome.

Pakistan condemns India's move to turn Kashmiris into minority

He said that decision to raise the issue of Indian submarine at the diplomatic level has not been taken, referring to Tuesday's incident when Pakistan navy said it had thwarted an attempt by an Indian submarine to enter Pakistani territorial waters.

Regarding the use of F-16 aircraft during the downing of two Indian warplanes, he said that information on that will be provided by the military's media wing.

Regarding progress on the Kartarpur Corridor, he said that a delegation will visit India on March 14 to discuss the draft of the plan. "We are ready to hold talks with India at Attari. Kirtarpur is a joint project announced by the prime minister and the army chief. India asked us to hold talks in Attari and we are prepared for that," he said, referring to India's request of change of venue.

The spokesman further said that an FIR against murder of Shakir Ullah, the Pakistani who was killed in an Indian prison, has been registered in Pakistan. The FIR has nominated the jail superintendent in India, he added.

Dr Faisal said that Indian authorities have been asked to share the post mortem report. Furthermore, Pakistani diplomats in India were not called during the post mortem examination of the deceased. "Pakistan will raise the matter at international forum including OIC," he added.

Condemning Indian atrocities in occupied Kashmir, Dr Faisal said that Pakistan has appealed to the international community to play its role against Indian aggression. "Pakistan condemns ban on Jamaat-e-Islami's (JI) operations in IOK. The houses of the leaders of JI have been sealed," he said.

Responding to a question pertaining banned outfit chief of Jaish-e-Muhammad Maulana Masood Azhar, the FO spokesman said that decision on the matter will be taken in light of Pakistan's interest.
COMMENTS
Comments are moderated and generally will be posted if they are on-topic and not abusive.
For more information, please see our Comments FAQ