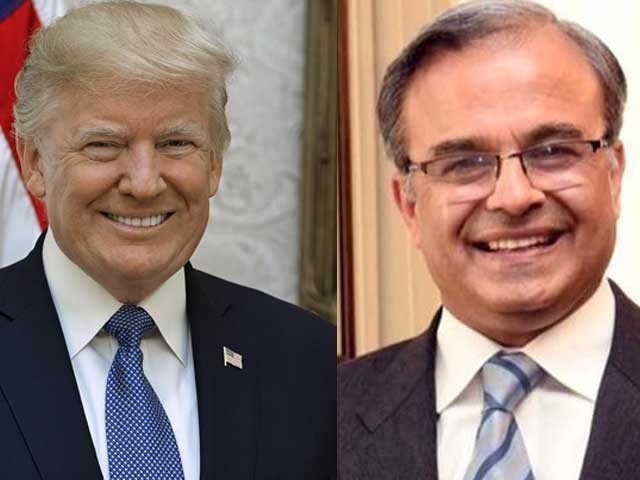 ---
Pakistan's Ambassador to the United States Dr Asad Majeed Khan on Monday said that the country is keen to establish a comprehensive, long-term and predictable relationship with the US and wants to continue assisting the US on negotiating the Afghan endgame.

Speaking at the United States Institute of Peace, the Pakistani envoy stated that "the Pakistan-US relation is as old as Pakistan itself", adding that the need to stay engaged has never been lost on either side.

Pakistan eager for US diplomacy between Islamabad and New Delhi

Elaborating further on the Afghan peace process, ambassador Khan maintained that Pakistan supports President Donald Trump's mission for peace in the war-torn country.

On overall betterment of the region, the envoy reiterated Pakistan's resolve to establishing sound relations with its neighbours and trade partners.

He stated that the "Pakistan Tehreek-e-Insaf (PTI)-led government is convinced that long-term relations are essential for pursuing strategic and economic goals", adding that Pakistan reached out to its neighbours especially India and Afghanistan soon after the transition of power in 2018.

Trump hints at de-escalation between India, Pakistan as US mediates

The envoy further said that the Imran Khan-led government is "people friendly, development-driven and peace-centric".

In the wake of simmering tensions between Pakistan and India, President Trump said the US had been mediating between the two sides and that he had some "reasonably decent" news from the arch-rival nations.

World powers urged restraint as tensions between New Delhi and Islamabad escalated after a suicide car bombing that killed at least 40 Indian paramilitary police in Indian occupied Kashmir (IoK) on February 14.
COMMENTS
Comments are moderated and generally will be posted if they are on-topic and not abusive.
For more information, please see our Comments FAQ