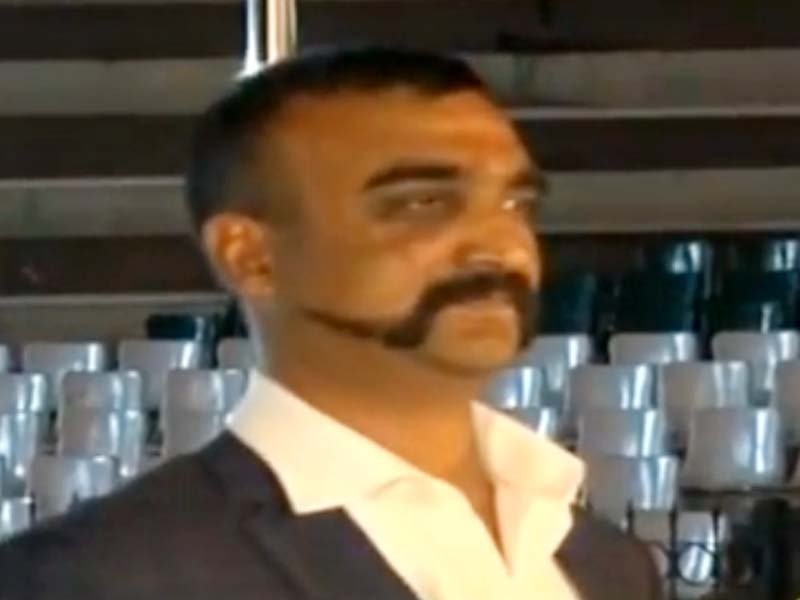 ---
LAHORE: Pakistan on Friday 'as a goodwill gesture' handed over to Indian authorities the captured Indian Air Force (IAF) Wing Commander Abhinandan Varthaman as the nuclear-armed neighbours scaled back a confrontation that has prompted world powers to urge restraint.


Final moments. #WelcomeHomeAbhinandan pic.twitter.com/sddcWBNEUH

— Shahid Raza (@schaheid) March 1, 2019


Abhinandan's MiG-21 jet was one of the two plane shot down by a Pakistan Air Force (PAF) after they entered Pakistan's airspace on February 27, a day after Indian warplanes barged into Pakistan and dropped 'payload' in a deserted place in Khyber Pakhtunkwa's Balakot area.

Prime Minister Imran Khan while addressing a joint session of the parliament on Thursday announced to release Abhinandan 'as a peace gesture' but warned that the desire for de-escalation should not be construed as weakness and that Pakistan was fully prepared to retaliate against any aggression.

Imran Khan wins praise over captured pilot's release

On Friday, the pilot was brought amid heightened security at Lahore's Wagah border, where his handing-over documents were completed and his medical checkup was also conducted.

Later, he was handed over to the Indian authorities by the Pakistan Rangers officials. An Indian attaché deployed in Pakistan and a foreign office official also escorted Abhinandan to the gate at Indian side. Television footage showed Abhinandan walking across the border at Wagah just before 9.00 pm.

Earlier, the Indian High Commissioner was also summoned to foreign office where he was informed about handing over of the captive. He also completed the documents.

On Friday, India stopped its general public from entering the venue where a flag hoisting ceremony is held on daily basis.  However, there was an unusual rush and enthusiasm on the Pakistani side, which resounded with slogans of 'Allah-o-Akbar', 'Pakistan Zindabad' and 'Pakistan Army Zindabad'.

Treatment of captured Indian pilot gets cross-border praise

Later, the Ministry of Foreign Office confirmed handing over of the pilot to India through a statement. "The captured Indian Air Force Wing Commander Abhinandan Varthaman has been returned to India today (Friday)," the statement said.

"While in captivity, he was treated with dignity and in line with international law. Prime Minister of Pakistan Mr Imran Khan announced his return as a goodwill gesture aimed at de-escalating rising tensions with India," it added.

Meanwhile, a video statement of the pilot also emerged in which he praised professionalism of the Pakistan Army while also criticizing the Indian media for painting a negative picture of Pakistan. "I am very impressed after spending time with them," he said.

Tensions between Pakistan and Indian escalated rapidly following a suicide car bombing that killed at least 40 Indian paramilitary police in Indian-occupied Kashmir on February 14.

India accused Pakistan of harbouring the Jaish-e-Mohammad group behind the attack and Prime Minister Narendra Modi promised a strong response. Islamabad denied it helps the militant Islamist group and asked India to share proof.
COMMENTS (2)
Comments are moderated and generally will be posted if they are on-topic and not abusive.
For more information, please see our Comments FAQ