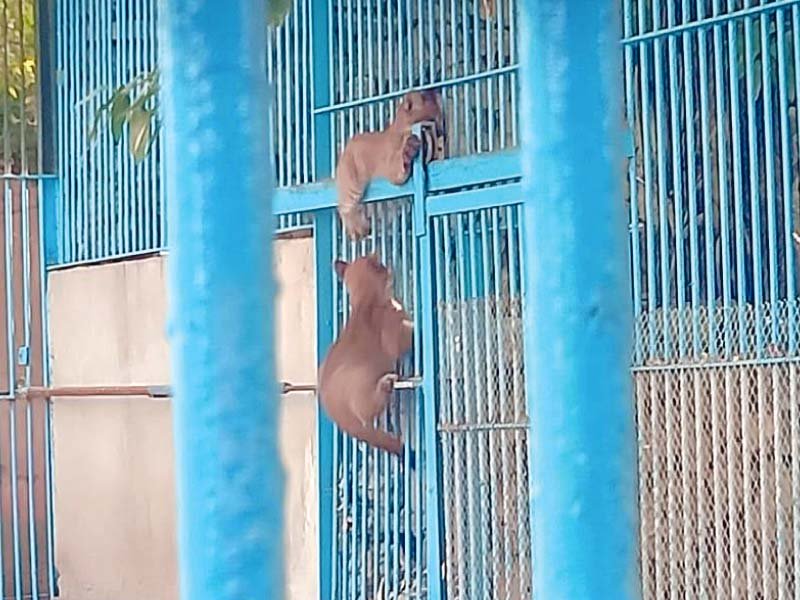 ---
KARACHI: Two cougar cubs have joined the animals at the Korangi Zoo. Resident Canadian pumas, Zolly and Percy, were the proud parents of two cubs on November 11, 2018.

On Wednesday, these cubs joined the animals on display for the public's amusement. The number of pumas at Korangi Zoo has now reached four.

The cubs were welcomed to their cages by Zoo Declaration Director Muhammad Mansoor Qazi. Teachers and students from government schools joined Qazi, Zoo Deputy Director Amir Ismail, and other administrative members to celebrate the arrival of the young pumas and enjoyed watching the cubs play in their cage.

Qazi told the public that the administration had waited for the cubs to be at least two months old before revealing them to the public.

Karachi zoo to get more exotic animals in major revamp efforts

Pumas are shy in nature and being observed by the public may have made them nervous and liable to causing harm, he said.

Qazi stressed that the zoo's priority was to ensure the survival and preservation of the animals under its authority. According to the zoo's administration, the names of the cubs will decided through a competition which will take into account children's suggestions.

Both cubs are healthy and since they are too young to be weaned, are currently being fed by their mother, added Rizvi. They will be given a more carnivorous diet after a few months, he said. According to Rizvi, the workers employed for the pumas bathe the cubs to keep them clean and are tender in their care of them. 

Published in The Express Tribune, January 24th, 2019.