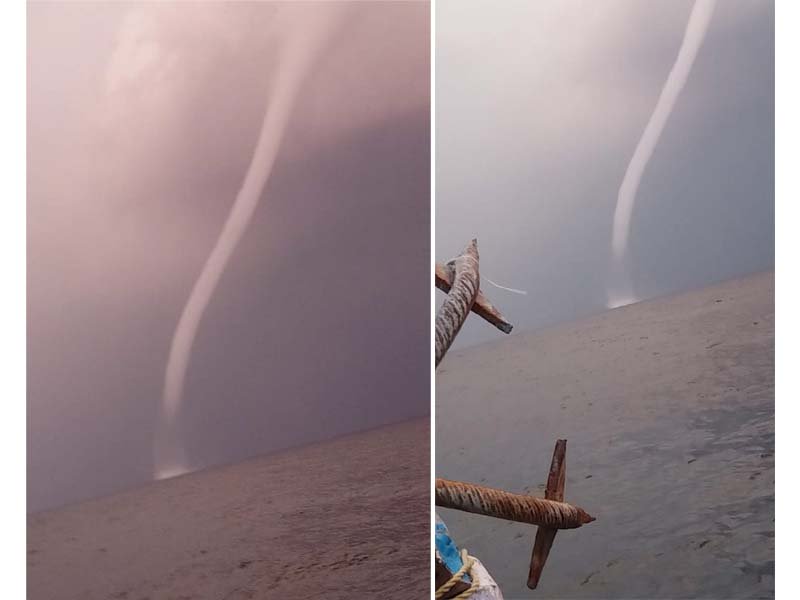 ---
KARACHI: A World Wildlife Fund (WWF)-trained fisherman, fishing in the offshore waters of Sindh, reported the occurrence of a waterspout on Monday. Captain Saeed Zaman reported to have experienced this rare phenomenon while he was fishing for tuna about 57 nautical miles from the coastline in offshore waters at Ghora Bari, Sindh coast.

He recorded the spectacular waterspout that looked similar to a tornado. This rare waterspout was previously reported in Pakistan by fishermen on February 28, 2016 near Sakoni, Balochistan.

According to Zaman, the massive waterspout was heading towards his boat but he managed to move away from it. He said that he observed a large patch of cloud on Tuesday morning from which the waterspout could be seen descending. Other fishermen in their boats in the area also observed this massive waterspout but they also avoided approaching it.

What is a waterspout?

A waterspout, contrary to its name, is not filled with water but is a column of cloud-filled wind rotating over the ocean's surface. It descends from a cumulus cloud and the water inside a waterspout is formed by condensation in the cloud. There are two types of waterspouts; tornadic and fair-weather. The clouds from which waterspouts descend are not fast-moving, so fair-weather waterspouts are often static. Both waterspouts require high levels of humidity and a relatively warm water temperature compared to the overlying air. Waterspouts are most common in tropical and subtropical waters but this is the second authentic record of its occurrence from Pakistan coast.

According to experts, there are different types of waterspouts, some of which could prove severely dangerous for marine life, humans, boats and ships sailing in the sea and even for the aeroplanes crossing by them. These waterspouts spin speedily and have the ability to dangle things in the surroundings up in the air, including heavy objects.

Experts say that these waterspouts are formed by extremely fast winds blowing in a particular direction. The phenomenon of waterspouts forming in deep waters can occur in any part of the world - in both cold and warm countries.

The waterspouts look like a pillar of water spinning from the bottom towards the sky, according to the witnesses, which is actually the wind containing sea water moving in spirals. The waterspouts dangle the fishes and other sea creatures even from the depths of the sea, including fishes, turtles, crabs and fishes weighing several kilogrammes. The waterspout may release these objects after travelling a distance of few kilometres like clouds do.

Occurrence in Pakistan

WWF-Pakistan Technical Director Moazzam Khan said that the first waterspout in Pakistan was recorded on February 28, 2016 at Kalmat Khor, a coastal site of Balochistan, which was also recognised by the international organisations as the first waterspout to be seen in the Arabian Sea.

Another waterspout was observed after 2016 at Churna Island, at the junction of Sindh and Balochistan. The World Meteorological Organisation (WMO) issued a picture on their Facebook page of the waterspout claimed to be seen at Churna Island. This waterspout occurred in the month of November, according to the WMO, when heavy thunderous rain was pouring in different districts of Sindh and coastal areas of Balochistan.

According to Khan, waterspouts are usually formed along the cumulus type of clouds. This type of waterspout is generally not associated with thunderstorms which usually dissipate in short time. The average spout is around 50 metres in diameter, with wind speeds of 80 kilometres per hour. "Most waterspouts last for up to one hour, though the average lifetime is just 5 to 10 minutes," Khan added.

WWF-Pakistan appreciated the alertness and vision of the fishermen who have been trained to record such rare events including release of endangered marine animals.

Published in The Express Tribune, January 23rd, 2019.