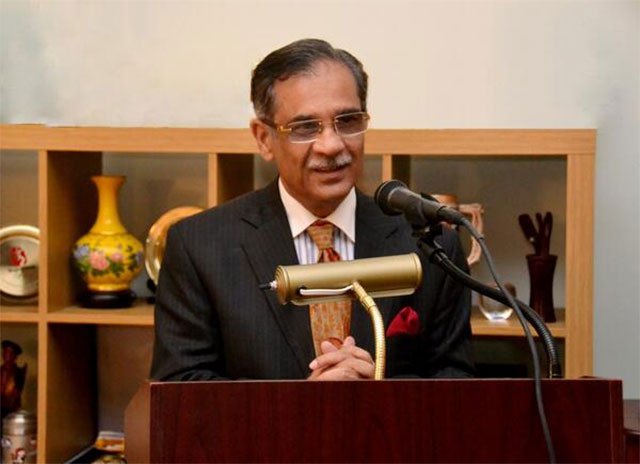 ---
Chief Justice of Pakistan Mian Saqib Nisar leaves behind a legacy of judicial activism of holding politicians, public servants accountable, rarely witnessed before, at the time when he assumed office.

Justice Nisar with his unique style created his own reputation of upholding the rule of law, and making elites accountable for their actions.

An important feature of the outgoing top jurist's tenure was exercising suo moto powers regularly under Article 184 (3 ) of the Constitution, which allows the Supreme Court to intervene in public interest matters.

We take a look back at some of the cases in which Justice Nisar took a suo moto notice on.

Money Laundering and Fake accounts case

In December 2017, the investigations were reopened and the Financial Monitoring Unit (FMU) that investigates money laundering issued a report of suspicious transactions. The FIA formally started its investigations afterwards.

In July last year, the Supreme Court took suo motu notice of the slow progress in the investigations. The FIA registered a case of money laundering on July 6 and arrested former chief of Summit Bank Hussain Lawai and senior banker Taha Raza. Later Anwar Majeed and his son AG Majeed of the Omni Group were also arrested. The FIA told the SC that money laundering of Rs37 billion had been done through 29 bank accounts of seven companies.

I stayed within my constitutional limits: CJP

The FIA prepared lists of big contracting firms associated with the Sindh government  which had transferred billions of rupees into the accounts, the fictitious companies in whose names the accounts were opened and the influential people and groups that received money from these companies.




In February, Justice Nisar took suo motu notice over alleged laundered money of Pakistanis in Swiss accounts. CJP issued notices to the Federal Board of Revenue (FBR), State Bank and Securities and Exchange Commission of Pakistan to submit a comprehensive report within two weeks regarding the money which is lying in Swiss accounts.

Tax authorities had maintained that the revised treaty on the Avoidance of Double Taxation did not cover past transactions, and thus it seemed to be the secret behind the $200 billion stashed in Switzerland by Pakistanis will remain a secret.

Zainab murder case

Chief Justice of Pakistan (CJP) Mian Saqib Nisar on January 11 took suo motu notice of the rape and murder of Zainab, an eight-year-old girl in Kasur.

The body of the minor child was found in a garbage dump days after she went missing from her home. Taking notice of the horrific incident, the CJP ordered the IG Punjab to submit a report within 24 hours.

The victim's parents, who had gone to perform Umrah, reached Islamabad an hour after their daughter's funeral.




Subsequently, Imran Ali, a local of the area, was arrested and convicted of the crime and was sentenced to death by an anti-terrorism court following a speedy trial after substantial evidence was presented against him.

In October, Imran, who had been sentenced to death for the rape and murder of Zainab and 12 other minors girls was hanged at Lahore's Kot Lakhpat jail.

Why 18th Amendment passed without debate, wonders CJP

Hospitals

The chief justice also took suo moto notice on the conditions prevalent at government hospitals in Lahore in January.

Notices were issued in this regard to the medical superintendents of 19 government hospitals of Lahore. All the medical superintendents were directed to appear in court at Supreme Court branch registry Lahore.

They were required to bring along reports of the availability of emergency machinery/equipment comprising of ventilators, oxygen, incubators OTs facility, angiography machines, CT scan, MRI, ambulances, etc.

Chief Justice of Pakistan Mian Saqib Nisar made it clear to the authorities of the private hospitals that a fine of Rs10,000 would be imposed if any vehicle was parked in front of hospitals creating disturbances for the public.

CJP Nisar gave these remarks while hearing a suo motu notice against the exorbitant fee of private hospitals charged in the name of medical treatment and hinted at ordering forensic audit of their accounts. The country's top judge said the amount of fine would be deposited in dam fund.

Land encroachment

The Supreme Court also emphasised on the payment of property regularisation fee after taking a suo motu notice of the Bani Gala encroachment case.

The top judge had previously directed the Pakistan Tehreek-e-Insaf (PTI) government to regularise all properties located in the federal capital's suburbs including the sprawling residence of Prime Minister Imran Khan.




In another case, Punjab police, while submitting its report to the Supreme Court, said that 'land grabber' Mansha Ali Khokhar alias Mansha Bomb was involved in 66 different cases, also including matters related to the Anti-Terrorism Act.

The apex court had taken a suo motu notice on an application of an overseas Pakistani, Mahmood Ashraf, seeking for the court's support on police's reluctance to take action against the 'land grabber', who had allegedly seized the applicant's property.

Suspected land grabber Malik Mansha Ali Khokhar, alias Mansha Bomb, was arrested from the Supreme Court premises in October.

Water shortage across the country

The top judge made the remarks during the hearing of a case pertaining to pensions. "I will keep taking suo motu notices on education, clean drinking water or health issues," he said.

The chief justice established the Diamer-Bhasha Dam Fund while directing the government to begin construction on the reservoirs to resolve the country's water shortage.




The CJP urged the nation to donate generously to the fund and made foreign fund-raising trips. Questions were raised regarding the feasibility of crowd-funding dams, but Justice Nisar shut down critics and warned those who questioned the jurisdiction of the apex court.

"Those who resort to criticism do it on other matters, but not on the issue of dams' donation. We know our jurisdiction," the CJP had said in September.

As of December 14, over Rs8 billion have been collected for the dam fund.

Population growth

After water crisis, Supreme Court of Pakistan is focusing on the massive growth of population in the country.

Chief Justice of Pakistan Mian Saqib Nisar took up suo motu case regarding an increase in population.

The court constituted two committees to come up, within two weeks, uniform policy on curbing population growth in the country. One committee is led by former secretary to prime minister Fawad Hassan Fawad. Attorney General Khalid Javed Khan was to lead the second task force.




The chief justice has remarked that there is dire need to formulate a uniform and effective policy to curb population growth. He also wondered whether the country is able to afford seven children in a family.

Likewise, he questioned whether the country has resources of such a massive population.  The chief justice said that control of population growth is as important as issues related to the construction of dams and debt servicing.

Water companies

The Supreme Court under Justice Nisar ordered a forensic audit of operations of a private mineral water company and quality check of all major bottled water brands.

Chief Justice of Pakistan Mian Saqib Nisar heard a suo motu case pertaining to the alleged exploitation of water resources by mineral water companies operating in the country.




The issue came up during hearing of a case related to drying up of the Katas Raj pond due to consumption of a huge amount of water by nearby cement factories through drill bores.

The Supreme Court warned that the plants of mineral water companies may be shut down if they fail to pay Rs1 per litre for water extracted from the ground.

"Stop consuming water of companies that dried up our land and didn't even pay us for extracting water," he said.

Azam Swati: Misue of power

The Supreme Court also decided to consider Swati's case in the preview of Article 62 (1) (f), a provision which allows the judiciary to disqualify any lawmaker for a lifetime on account of his/her being not Sadiq [truthful] and Ameen [trustworthy].

The top court considered invoking Article 62 (1) (f) of the Constitution against him for allegedly misusing his authority by utilising the police to intimidate a poor family.




The apex court while exercising quo warranto jurisdiction has already disqualified dozens of lawmakers on different grounds – like concealment of assets, fake degrees and dual nationalities.

Swati's son had registered a case against slum dwellers who, he claimed, were trespassing on Swati's lands and getting into altercations with his staff. The accused were arrested and sent to Adiala.

It was in relation to this dispute that Swati had tried to contact Islamabad's Inspector General Police (IGP) Jan Muhammad who had not picked up his calls. He had complained against the IGP to Prime Minister Imran Khan who transferred him on verbal directions.

Later, the apex court initiated suo motu proceedings and taking strong exception to the transfer of the IGP' suspended the government's order to transfer the policeman.
COMMENTS
Comments are moderated and generally will be posted if they are on-topic and not abusive.
For more information, please see our Comments FAQ