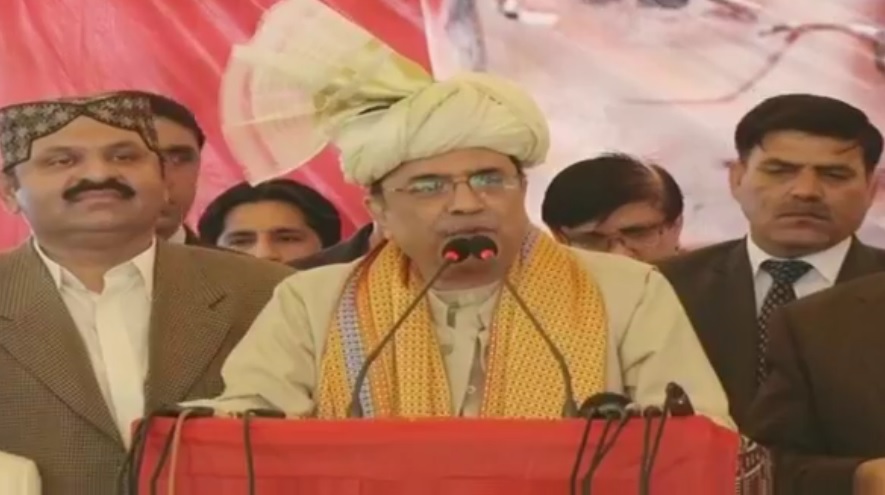 ---
HYDERABAD: [fbvideo link="https://www.facebook.com/etribune/videos/1127782074048879/?notif_id=1545824583680987&notif_t=live_video_explicit"]

Pakistan Peoples Party (PPP) Co-Chairman Asif Ali Zardari has warned that if the Pakistan Tehreek-e-Insaf (PTI) government attempts to withdraw provincial autonomy then it should be prepared to face a long fight.

"This isn't a small issue. It will stretch too far," he said while addressing party workers in Ghotki on Friday.

"It will engulf everything," said the former president with a cryptic undertone while referring to the Joint Investigation Team's (JIT) report in a money laundering case, which according to Zardari implicates him and his associates as a tool to put pressure on the PPP to withdraw from defending provincial autonomy.

The PPP co-chairman recalled that the 18th constitutional amendment was passed unanimously during his government, even though the party didn't enjoy the required majority in parliament. "Punjab, Khyber-Pakhtunkhwa and Balochistan were given the same autonomy which was given to Sindh," he said.

Fake accounts case: Bilawal, Zardari placed on ECL

"Your problem is that you couldn't rig the elections in Sindh as you did elsewhere," alleged the former president, adding that his party was ready to fight for what's right if challenged to do so.

He also said his party was not hungry for power as it had opted to sit on opposition benches in the Sindh Assembly despite winning the largest number of seats in 2002.

"How much do the people of the oil and gas rich Ghotki district get for their development against their contribution, including in the form of taxes," Zardari asked, adding that he didn't support autonomy because he owned gas or coal fields but to hand over the control of natural resources to the locals.

SC orders commission to monitor Sindh's steps for Thar

He said the philosophy of the PPP was to defend the rights of the poor. "Through this philosophy you will see people bonding together and after this Pakistan will become strong. By merely saying morale of my jawans is high Pakistan doesn't become strong but it becomes strong when people are strong, happy, [the resources go] in their pockets and their children sleep well."

Meanwhile, Zardari asked party workers not to worry over the prevailing political situation and said people who know about their rights cannot be deprived of them.

Sindh Chief Minister Murad Ali Shah said revenue generation by the Federal Board of Revenue has dropped under the current government. He deplored that since 2013 the federal government has banned supply of gas to the villages.
COMMENTS (3)
Comments are moderated and generally will be posted if they are on-topic and not abusive.
For more information, please see our Comments FAQ