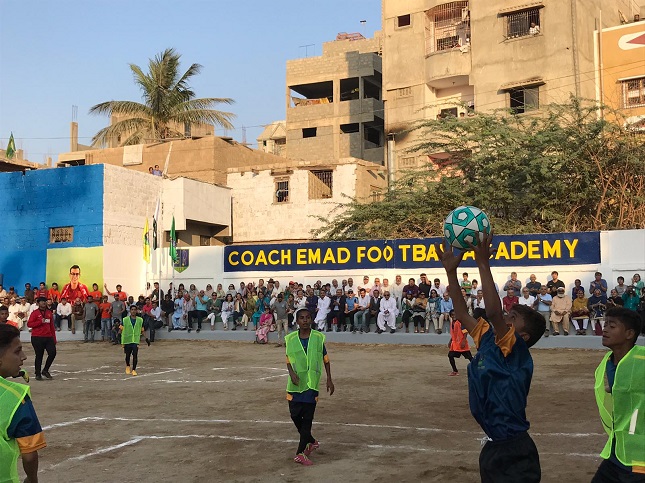 ---
KARACHI: All Emad Naqvi ever wanted to do was coach football. The 25-year-old, already an F and E licensed coach by FIFA, planned on returning home to set up an academy for the footballers in Karachi's Lyari area.

"He always used to tell me, when I come back I want to coach Lyari students, I want to do something for the children here," Naqvi's mother, Atia Naqvi, said while speaking to The Express Tribune.

Looking around during the opening of the Coach Emad Football Academy (CEFA) she said, "this is what he wanted."

When Naqvi took his own life a week before he was due to complete his undergraduate degree in Sports Management from Boston University, his family and friends knew they had to do something to keep his legacy alive.

Lyari's story is richer than its conflicts

The moniker Naqvi's students gave him, 'Coach Emad', became the inspiration behind the academy and the Coach Emad Foundation was born.

Naqvi's mother says they not only want to promote football but also create a prototype on a community level. The foundation will also focus on education, with two children being chosen every semester and admitted in mainstream schools.

"We want them to not only focus on football but also education and mental health - these things must go hand in hand if they want to pursue the sport," added Naqvi's mother.

The inauguration of the football academy on Sunday in Lyari featured an exhibition match between two teams that will be training at the academy. The academy is home to a football field for boys and girls and also houses a boxing facility.

Naqvi's cousin and one of the members of the foundation's board of directors, Ahmer Naqvi, echoed the sentiments on mental health.

"It's not enough that we are providing our kids with these places. We must also provide them with the mental stability and peace they need in their lives," he says.

Shiraz Rehmani is one of the four coaches at the academy. Rehmani, a coach for the past four years, is a D licensed coach by the Pakistan Football Federation (PFF). He lamented that he had no support prior to the launch of CEF.




"The children were interested in playing but they had no proper equipment and no designated place to practice," he said. According to Rehmani, he used to coach 10 to 12 children. Now that CEF is here, the number has crossed 200 - both boys and girls - all of whom are provided kits, boots and refreshments while playing."

"It's a safe place for girls to play too. We didn't have that previously. Girls train two days a week, and boys four days. We also have a female coach on board.

"There is so much potential here and we have a long way to go. We also need the government to take note. Problems will come and there will be hurdles but we hope to cross them. However, the government needs to start making sports and football a priority too," he added.

Salman Ali is one of the academy children who played in the exhibition match. The 14-year-old cites Juventus starlet Paulo Dybala as his inspiration and says he's been playing football for the past four years. "I want to learn and be better but we didn't have any equipment before. Now that we have been provided kits and a place to play, I have hope that I can continue and become a footballer."




Naqvi's younger brother, Ahmed, who refereed the exhibition match wearing his brother's jersey, couldn't help smiling when asked about the turnout at the event. "It's amazing, the turnout. Knowing that if we all make an effort, we can do something great."




"Football is the life of these people and we want to give them the platform that will help take their passion and make them something special. Stars can rise from this academy," Ahmed said.

Naqvi's parents have focused on celebrating his life but have also not shied away from the fact that their son had mental health issues. "In our society mental health is still not discussed enough", says Naqvi's cousin and hopes the foundation can redress that issue.




Of Karachi's privileges and problems

One of the ground's walls is painted with the words 'The Theatre of Dreams' - a nickname of Manchester United's stadium, the club Naqvi supported.

As the first goal was scored in the exhibition match and the goalscorer went on his knees and pointed to the skies, copying Lionel Messi's signature celebration one couldn't help but think maybe this ground will be where the dreams of Lyari's footballers will be realised.