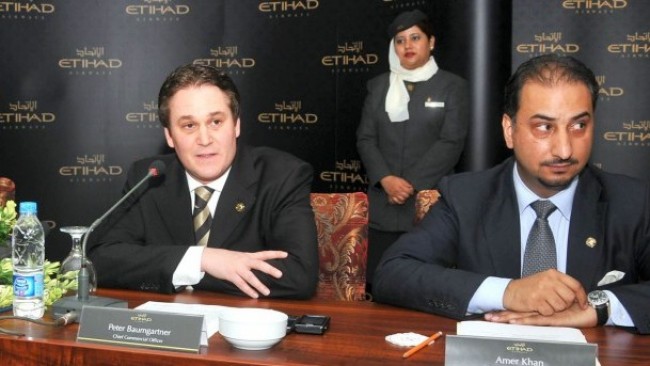 ---
KARACHI: Pakistan is one of the top 10 markets and Etihad Airways is committed to this market, which is evident from the airline's fast expanding operations in the country, said Peter Baumgartner, Chief Commercial Officer Etihad, the national airline of Abu Dhabi.

Talking to The Express Tribune in an interview on Thursday, Baumgartner said Etihad has already achieved a reasonable presence in Pakistan market in a short span of six years.

"Abu Dhabi is like a centre from where we have all the options to move east and west. At present, we have 62 flight destinations around the world, indicating our balanced and diversified approach to all major markets," Baumgartner added.

Discussing the difficulties that the airline industry has gone through in the wake of the global financial crisis, he said: "I hope that the industry will come out of the crisis-like situation soon. When you enter this business, you should be ready to face ups and downs. Those who remain flexible and adapt themselves to the changing demand will grow even in difficult circumstances."

About the effects of Greece debt crisis, he said the European Union is taking all the measures to control the eurozone crisis and "I think this will not affect our business directly."

When told that low-cost airlines are getting more business on the Pakistan-UAE route, he said the budget carriers may not get any reasonable share contrary to what some believe.

"We especially target Pakistan for its rapidly growing market and its proximity to Abu Dhabi," he said when asked about the potential in the South Asian market, adding India is also emerging as a good market and "we think our presence will benefit this region as a whole with the growing air traffic."

"The year 2009 has been the worst year in the history of the airline industry," he said. "We are now out of the crisis like other airlines of the world, but it will be unfair to say that the financial turmoil has not hurt our airline."

Published in the Express Tribune, June 4th, 2010.
COMMENTS (1)
Comments are moderated and generally will be posted if they are on-topic and not abusive.
For more information, please see our Comments FAQ