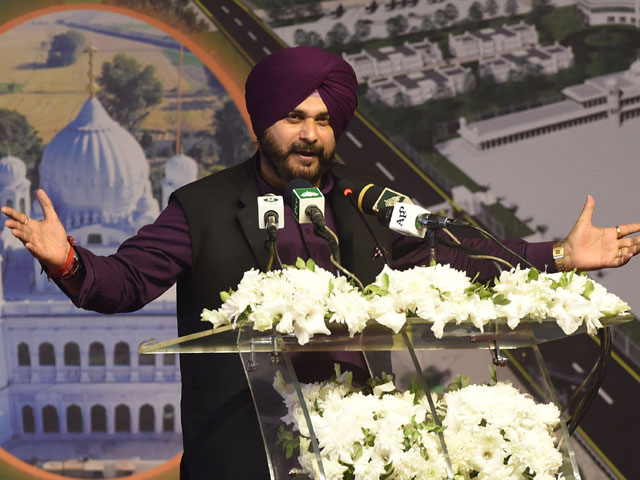 ---
Enigmatic cricketer-turned-politician Navjot Singh Sidhu opted for poetry over prose in his signature style while speaking at the groundbreaking ceremony of the Kartarpur border corridor on Wednesday.

Sidhu heralded the move by Pakistan and India to open the border for Sikh pilgrims to visit Gurdwara Darbar Sahib – located in the Kartarpur area of Narowal – is the final resting place of the founder of Sikhism Guru Nanak Devji.

Pakistan and India must break free from the shackles of the past: PM Imran

Sidhu was a part of an Indian delegation, including two ministers that  travelled to Pakistan for the event.

In his speech, Sidhu used poetry of Bulleh Shah to spread Guru Nanak's message of love and peace.

Hindustan jeevay te Pakistan jeevay,

Long live Hindustan, Long live Pakistan


haansta waasta ee saara jahan jeevay

Long live the world full of laughters


dharti, paaon aur paani

The earth, our feet, the water/s


bootay jeev purani

Saplings, living beings, old


sooraj chand sitaray

ae saara asmaan jeevay

jeevay rehn har insaan de dil de andar

Long live in the hearts of all human beings


te shaan aan baan de naal har insaan jeevay

Long live every person's pride and …


koi vehm nahin, nanak shah fakir

There's no doubt, Oh Mendicant Nanak


Hinduan de guru, te musalmana de pir

For you are the guide for Hindus and sage for Muslims


koi zariya bandda, koi farishta bandda

kehatar saal di intezar noo, pallan de vich mitonda

aur vo yaari bhi nibhonda hai

udhe naal yaari kade naal ayi hai


jino apne uthe gharoor howe

The one who is proud of himself


maa baap nu bura kabhi na akhiye

Never wish bad for your parents


pawe lakh una da kasur howe

No matter how much they are to blame


buray rastay kadi na jawey

Don't astray from the right path


paway manzil kinni vi duur howe

No matter how far the destiny


oh bullay shah mohabatan uthe paye

jithe pyaar nibonda dastur howe

jithe pyaar nibonda dastur howe

Oh Bullah you shall find love where loyalty reigns supreme


jira yaar nu dekhay ae pano

oh yaar Mubarak Honda hai---


awal allah no rupaya sab bande

e knur de ----- kaun palle to manday


tulla keeriyan da lakh man atta

A band of insects in pursuit of flour trembles if the heart says so


manwa de ithe put dig paye

painda manwa nu dohi bani kata

hare ja koi jang jeet jaye


jab bhi----

langeh ka itehaas likha jaye ga

pehle pannay pe pehle harf pe aap ka naam likha jaye ga


ae bara crore nanak naan leva da vishwaas hai

It is the belief of a 12 crores devotees

Your name shall be written in golden words


aur sach puchho ae joongda jaagda itehaas hai, ae joongda jaagda itehaas hai


khuliya ae langah

Finally the ice has broken

Let's rejoice and witness


aao yaaron darshan pa lo rahay na koi vanjha

rahay na koi vanjha


Guru nanak de bolan nu hamesha yaad rakhange

We shall never forget what Nanak said

te sheikh fareed di azmat sada abad rakhange

We shall hold Fareed's esteem high and forever


jo markaz hai ibadat da sunaiha hai mohabbat da

The center of love and devotion


de ek supna hai bari muddat da

Has culminated like a dream fulfilled


mureedan nu jo murshad di meher tak le jawe

asi uss pyaar de langay di aaj bunyaad rakhange

The one who unites the devotee with his guide

We shall lay the foundation of such pure devotion


VIDEO COURTESY: PUBLIC TV