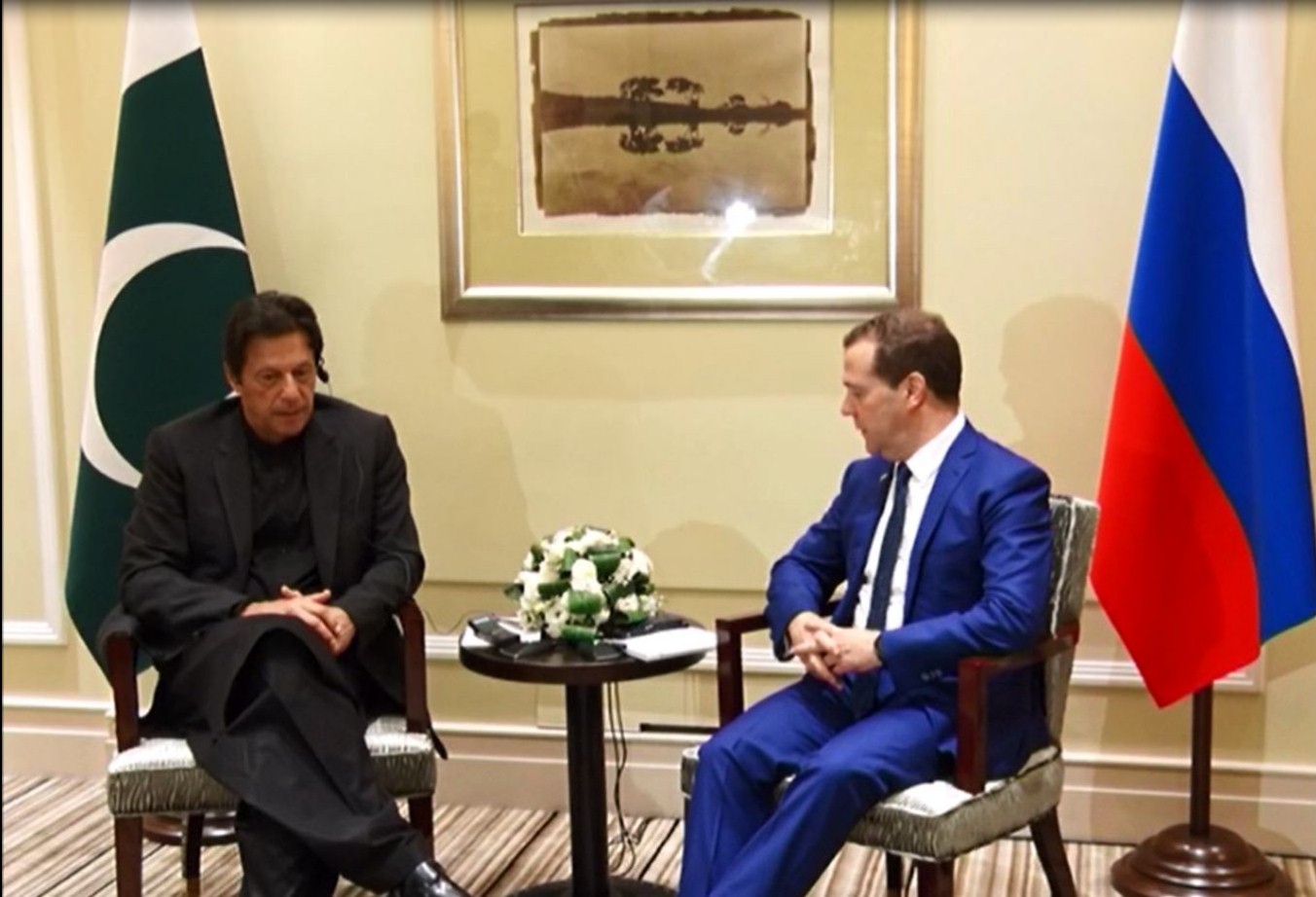 ---
Prime Minister Imran Khan on Monday met his Russian counterpart Dmitri Medvedev on the sidelines of the China International Imports Expo (CIIE).

China says more talks needed on economic aid for Pakistan

The meeting was also attended by Finance Minister Asad Umer and Advisor to the PM on Commerce Abdul Razzak Dawood.


PM Imran Khan meets Russian Prime Minister D A Medvedev in Shanghai.

Minister for Foreign Affairs @SMQureshiPTI Qureshi, Minister for Finance @Asad_Umar and Adviser to Prime Minister on Commerce Mr. Abdul Razzak Dawood were present during the meeting.#PMIKatCIIE pic.twitter.com/E6zNmp0gUL

— PTI (@PTIofficial) November 5, 2018


Earlier in the day, the premier addressed the opening ceremony of the CIIE as chief guest. In his speech, he stressed that Pakistan will be made a more conducive and competitive market for businesses and investments.


In Pakistan the Karakoram Highway merges into a network of modern highways that are part of the China-Pakistan Economic Corridor. These take you to the deep sea port of Gwadar, the point where the Belt and Road converge. @ImranKhanPTI #PMIKatCIIE pic.twitter.com/Y0nfe5wlJZ

— PTI (@PTIofficial) November 5, 2018


The prime minister also emphasised that while unilateral commercialism was aggressively sought and with protectionism on the rise, Pakistan took great comfort in Chinese President Xi Jinping's affirmation that Beijing's doors for Islamabad will only open wider and never shut.


وزیر اعظم عمران خان نے چائنہ انٹرنیشنل ایکسپورٹ ایکسپو میں موجود پاکستانی باکس کا دورہ کیا،وزیر خارجہ شاہ محمود قریشی،وزیر خزانہ اسد عمر،وفاقی وزیر خُسرو بختیار،وفاقی وزیر علی زیدی،وزیر اعلی بلوچستان جام کمال اور معاون خصوصی عبدالرزاق داؤد بھی اُنکے ہمراہ تھے۔#PMIKVisitsChina pic.twitter.com/4bPiyL54to

— PTI (@PTIofficial) November 5, 2018


After the opening ceremony, PM Imran along with Umer, Foreign Minister Shah Mehmood Qureshi, Federal Minister for Planning, Development and Reforms Khusro Bakhtiar and other members of his delegation visited Pakistan's stall at the expo as the "Country of Honour".

Pakistan to be made conducive, competitive for businesses and investments: PM Imran


Prime Minister Imran Khan welcomed the Chinese President and the world leaders at the Pavilion.
Pakistan has set up Pavilion as Country of Honour.@ImranKhanPTI #PMIKatCIIE pic.twitter.com/XITe828zgZ

— PTI (@PTIofficial) November 5, 2018


He also welcomed Chinese President Xi, Kenyan President Uhuru Kenyatta, Russian PM Medvedev, Vietnamese Prime Minister Nguyen Xuan Phuc and Maltese Prime Minister Joseph Muscat at the Pakistani Pavilion.


Chinese President Xi Jinping visits Pakistan Pavilion in China International Import Expo at Shanghai along with other world leaders including Kenyan President Uhuru Kenyatta, Russian PM Dmitry Medvedev, Vietnamese PM Nguyen Xuan Phuc and Maltese PM Joseph Muscat. #PMIKatCIIE pic.twitter.com/3lBhQUEcVo

— PTI (@PTIofficial) November 5, 2018