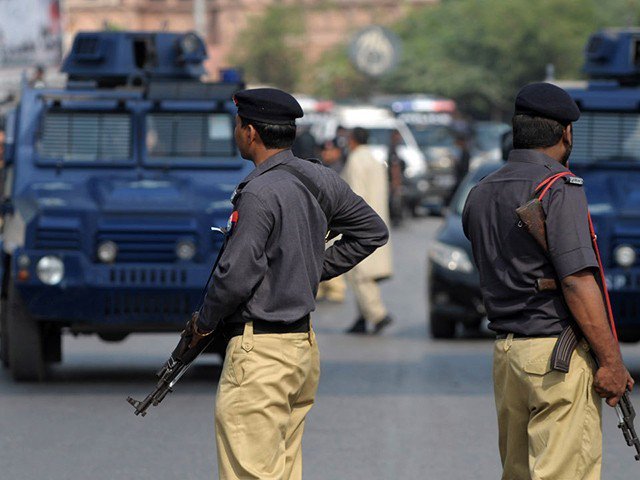 ---
ISLAMABAD: Islamabad police have arrested 6,191 criminals, including 1,001 absconders and recovered valuables worth more than Rs474.3 million from them during the current year, a police spokesman said on Sunday.

Police officials completed investigation on 5,828 cases and submitted their challans in relevant court.

Owing renewed efforts during the current year, police arrested 563 people involved in 295 robbery cases and recovered looted or snatched valuables worth Rs37.6 million from them including gold ornaments, cell phones, cash and 12 snatched vehicles.

Curbing crime: Three criminal gangs busted; vehicle, arms recovered

A total of 369 burglary cases were resolved besides arrest of 603 burglars and valuables worth over Rs97.4 million were recovered from them.

In all, 132 vehicles worth Rs115.6 million were recovered from 107 car lifters involved in 142 cases while 169 bike lifters involved in 127 cases were held besides recovery of 136 motorbikes worth Rs7.7 million from them.

Police also arrested 120 persons for their alleged involvement in 155 cases of tempering vehicles and recovered 158 vehicles worth Rs215.8 million from them. During special crackdown against absconders, police arrested 458 proclaimed offenders and 543 court absconders.

The nabbed proclaimed offenders were wanted to police in cases of murder, attempt to murder, robbery and snatching valuables.

Police apprehended 850 persons involved in 839 cases of possessing illegal weapons and recovered 54 assault rifles, 786 pistols and 6,645 bullets from them. A total of 1,065 persons were held in 942 cases for having narcotics and liquor while 266.498 kilogramme hashish, 46.594 kilogramme heroin and 19,145 bottles of liquor were recovered from them.

Islamabad police launched crackdown against those involved in immoral activities and arrested 222 men and 263 women after registering 85 cases against them. To ensure protection to the lives and property of the citizens, a total of 163 combing and search operations were conducted along with personnel of law enforcement agencies and 1,326 suspects were detained.

During the same period, the legal action was taken against 8,421 professional alm-seekers.

Meanwhile 18 blind murder cases were resolved and 36 alleged killers were nabbed. A total of 491 other criminal were also held for their involvement in crime cases of various nature.

SSP (Operations) Syed Mohammad Amin Bukhari said the police officers and jawans remained firm against the activities of mischievous elements and emerged successful during the ongoing year. He urged the police officials to adopt decent and polite attitude as it helps in inculcating friendly police ecology and resolving most of the problems.

He also directed for effective crackdown against drug peddlers so that society can get rid of drug menace. He asked police officials for effective patrolling to check street crime and robbery or snatching incidents.

155 suspects rounded up by Karachi police

The SSP operations appreciated the overall performance and directed for effective policing measures in the city.

Following directions of SSP Bukhari, all police officials accelerated efforts in tracing the theft as well as burglary cases and provide maximum relief to citizens by resolving their problems.

In compliance of these directions, heads of all police stations looked after performance of their subordinates especially investigation officers probing various cases. 

Published in The Express Tribune, October 11th, 2018.