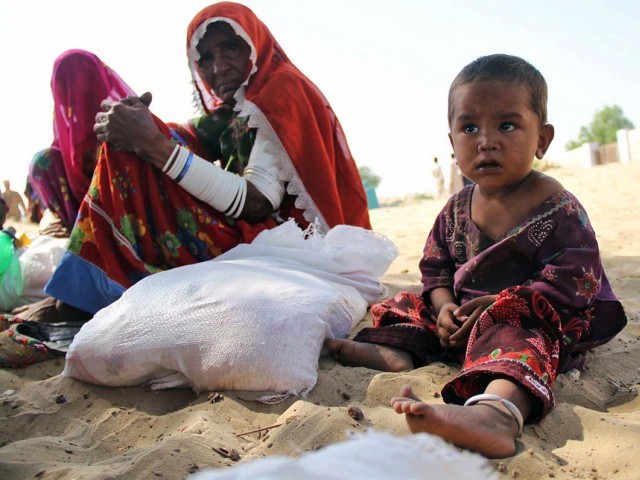 ---
HYDERABAD: As the drought-stricken Tharis continue to migrate, while malnutrition and a lack of health facilities claims the lives of even more children, the provincial ministers claim that an expeditious relief distribution is under way.

On the directives of Pakistan Peoples Party Chairperson Bilawal Bhutto Zardari, provincial minister Imtiaz Shaikh and Adviser to the CM on Law and Information Murtaza Wahab visited Tharparkar on Sunday.

Talking to the media, Wahab said that so far, 50,000 families, out of 208,000 in the district enlisted to receive food aid, have been given subsidised wheat bags of 50 kilogrammes. According to him, while the remaining families are being regularly supplied with wheat bags, some 67,905 more will be included in the list of recipients of food aid. Similarly, he added, 32,000 families in the neighbouring Umerkot district have been given wheat bags.

Responding to complaints against the wheat distribution mechanism, the adviser asserted that the process is progressing in a transparent manner. "An impression is being given as if the provincial government is doing nothing for the relief of the people," he deplored.

In an oblique reference to Pakistan Tehreek-e-Insaf federal government's wheat aid to Afghanistan, Wahab said that the important thing was that the Sindh government is giving wheat to the people and not taking it to Kabul.

According to an official source, one of the irritants affecting the wheat supply is the transporters. The provincial government has floated a tender under which the transportation to far off villages and rural towns will start from October 18. However, the transporters claim that the government has not yet paid them around Rs38 million for their services during the last drought.

Meanwhile, Wahab said that for a long term solution of the drought situation, the Thar Development Policy has been formed, adding that a bill in this regard will be passed by the Sindh Assembly. He said that 18 small dams will be built in Tharparkar for water storage.

Earlier, the ministers visited the district's civil hospital in Mithi taluka and heard the complaints of the patients and their attendants. They directed the deputy commissioner, Asif Jameel, to assign an assistant commissioner to visit the hospital daily and submit a report of his assessment. The assistant commissioner will also have to ensure that the hospital's administration maintained cleanliness and provided medicines to the people.

According to Jameel, 269 health centres are operating in the district and 26 specialist doctors are working as well. He claimed that the causes of infant mortality were pre-term births, low birth weight, breathing complications and pneumonia. According to unconfirmed reports, 54 children and newborns have died in Tharparkar since September 1.



Published in The Express Tribune, October 8th, 2018.

 
COMMENTS
Comments are moderated and generally will be posted if they are on-topic and not abusive.
For more information, please see our Comments FAQ