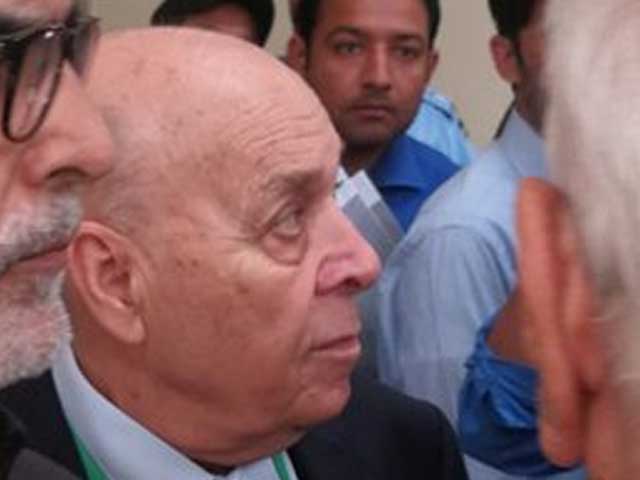 ---
KARACHI: The Federal Investigation Agency's Immigration wing has taken into custody Muhammad Shabbir, an alleged front man and close friend of Anwar Majeed and his son. Shabbir has been handed over to the Joint Investigation Team, probing his involvement in the money laundering scandal.

Shabbir is said to be involved on large scale illegal allotments in Scheme 33 and other areas of Karachi and is an important character in the money laundering scandal. His name surfaced when a transaction of Rs2.25bn was discovered in the bank account of a Faluda vendor of Karachi who had disassociated himself from the account.

The lower cadre employees of Omni Group had disclosed that amounts drawn from this account were taken to Shabbir and his employer businessman Younas Memon aka Younas Seth. When the JIT set-up by the Supreme Court investigated his activities, it was discovered that he was no other than the main character of the illegal allotment of public lands in the metropolis.

Management of Anwar Majeed's sugar mill booked for possessing illegal weapons

Further reports suggest that he had the 'blessings' of Memon and Anwar Majeed's son AG Majeed. Shabbir has also been involved in the illegal allotments of lands of Scheme 33, Malir Development Authority and Lyari Development Authority for the last six years. He has been receiving kickbacks worth billions of rupees

In addition to this, Shabbir used to get officers of his choice in Sindh Board of Revenue, MDA and LDA.  He had returned to Pakistan on September 26 and on Wednesday, FIA authorities had called him to Karachi airport on suspicious details found in his travelling documents.

On his arrival, he was arrested and handed over to JIT investigating the money laundering case.  The team is said to have grilled Shabbir till late in the night. Sources told that he has also disclosed names of present and former officers of LDA, MDA and KDA who will all soon be called in for investigations.