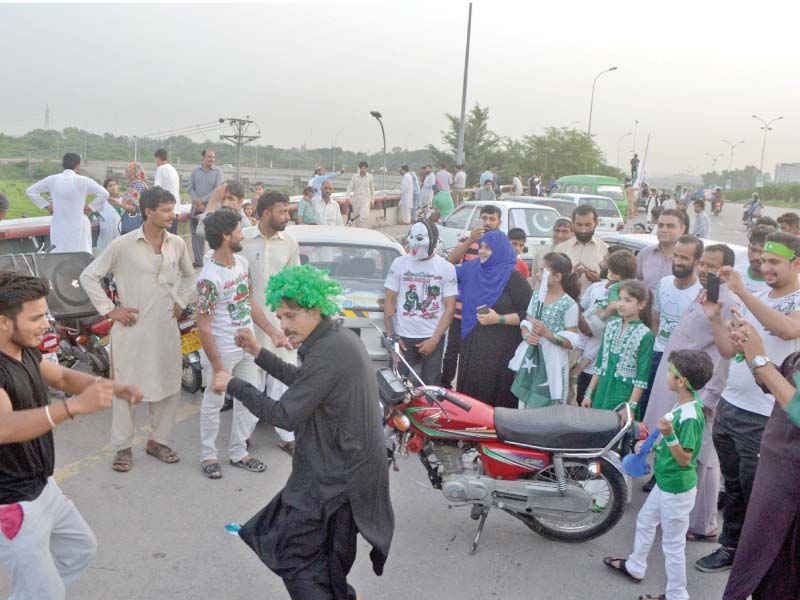 ---
ISLAMABAD: Residents of twin cities of Islamabad and Rawalpindi celebrated the 72nd  Independence Day of the country with traditional zeal and fervour on Tuesday even as motorbike riders bugle blowers created a nuisance on the roads.

With many buildings already decked out in colourful lights, often in the national colours of green and white, a number of formal and informal celebrations were organised in twin cities to mark the occasion.

As soon as the clock struck 12 early on Tuesday, citizens marked the begging of independence day through aerial firing, firecrackers and illuminations.

This was despite a ban imposed by the capital administration on fireworks. The city administration had cancelled all no-objection certificates (NOC) issued for firework displays on independence day owing to the precarious security situation.

This did not deter people, however, and fireworks could be seen all around the capital.

Groups of youngsters continued to create, nuisance by hurdling the flow of traffic on the eve of Independence Day. One such nuisance was created by motorbike riders who had removed the silencers from their two-wheelers to create noise despite a ban imposed on the move by the capital administration.

To check such practices, the administration had asked traffic police officials to strictly implement the ban, but youngsters rode on motorbikes in groups without wearing helmets and without silencers mocked the ban imposed by city administrators.

The City Traffic Police (CTP) had set up a special squad to check one wheeling on Independence Day and avoid a traffic mess and mishaps. However, police officials appeared to be overwhelmed by the number of motorbike riders out celebrating.




According to hospitals in the twin cities, they had to treat scores of youngsters for injuries suffered as part of traffic accidents.

At the Pakistan Institute of Medical Sciences (Pims), doctors said that they had treated around 61 accident patients at its emergency ward on Independence Day.

Similarly, the allied hospitals in Rawalpindi also reported several injuries from road accidents including one-wheeling. However, no casualties were reported in the hospital.

Police officials said that strict action would be taken against one-wheelers, rash and negligent driving. For this purpose, traffic wardens have been directed to impound motorbikes of those found performing one-wheeling stunts in the jurisdiction of their respective police stations.

During the day on Tuesday, all the main avenues, roads, shopping, business centres and parks witnessed huge a rush as a large number of people, including families, came out to celebrate Independence Day amid pleasant weather conditions.

This year a large number of stalls of flags, badges, stickers, green caps and dresses were established a large number across the mains roads, highways, markets and streets.

Culture highlighted

The National Institute of Folk and Traditional Heritage (Lok Virsa) and the information ministry marked Independence Day at Shakarparian on Tuesday with a grand cultural festival.

During the celebrations, a special cake-cutting ceremony was held at the Pakistan Monument Museum, western point of Shakarparian.

Lok Virsa Executive Director Shahera Shahid performed the ceremony where a large number of people from different walks of life including families and children attended.

An exhibition of artisans-at-work featuring master artisans in the field of papier mache, pottery making, metal work, leather embroidery, lacquer art and jewellery representing all provinces, Gilgit-Baltistan (G-B) and Azad Jammu and Kashmir (AJK) was arranged at the Heritage Museum on Garden Avenue. Another exhibition of art created by children in various programmes of Lok Virsa over the past year was showcased.

Over the course of the day, traditional drummers (Dholis) also gave thrilling performances to entertain visitors.

This year, Lok Virsa launched a milli naghmas (national songs) contest. As many as 50 entries were received from across the country.

Of these, 26 contestants were invited to appear for two auditions on August 7 and 9. They were adjudged by eminent Tabla player Muhammad Ajmal, renowned flute player Salman Aadil and writer Naeem Fatima Alvi.

Finally, three contestants were granted special prizes from Lok Virsa in recognition of their talent.  Nimra Khan from Peshawar was first and won a cash prize of Rs15,000. Maryam from Skardu was second and was awarded a prize of Rs10,000. Hina Abbasi from Islamabad was third and was awarded a cash prize of Rs7,000.

All the contestants who appeared in the auditions received participation certificates from Lok Virsa.

Later, Shahid said of the contest that "it was an effort on the part of Lok Virsa to celebrate the 71st anniversary of Pakistan's independence through purely a cultural perspective."

"This event provided an opportunity to master artisans, folk artists and folk musicians from all parts of the country to demonstrate their skills in the federal capital and express a message of peace, unity and integration among all federating units at this auspicious occasion," the Lok Virsa chief said.

Colourful activities mark Independence Day at AIOU

A host of colourful activities were held at the Allama Iqbal Open University (AIOU) on Tuesday to mark the 72nd Independence Day.

It also coincided with a plantation campaign where AIOU Vice Chancellor Professor Dr Shahid Siddiqui, academicians, staffer and students of the university.

After a flag hoisting ceremony, speeches, national songs and a tableau were presented at the jam-packed university's Council Hall.

An organized guard of honour was also presented by the security-workers paying salute to the national flag.

Sweets were also distributed among the students and the employees' children on the occasion.

Addressing the ceremony, AIOU's vice chancellor said that the varsity will continue to play its role for promoting quality education that could help realise the objectives of the Pakistan movement.

He urged students to concentrate on acquiring knowledge and promoting positive thinking in their daily life, as well as taking an active part in the country's social economic development.

Eulogizing the leadership of Quaid-i-Azam Muhammad Ali Jinnah, he said Pakistan's founder has been a role-model the World over for his selfless struggle for the rights of oppressed people and commitment to the nation's independence.

WITH ADDITIONAL INPUT FROM APP 

Published in The Express Tribune, August 15th, 2018.